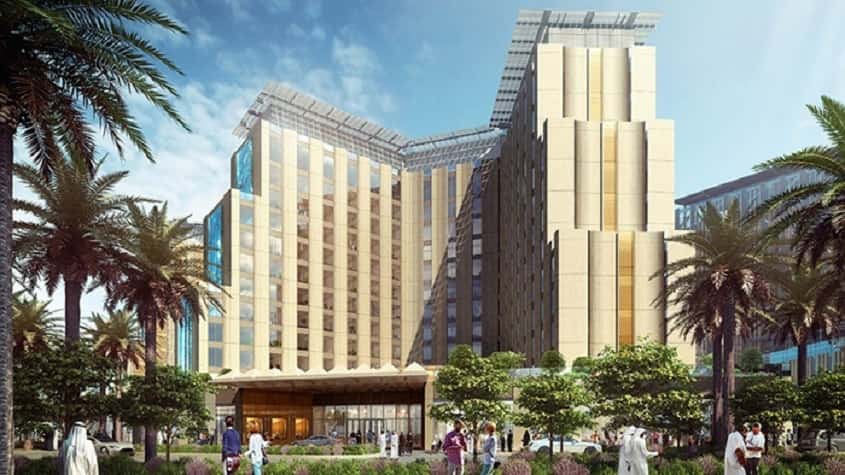 Laing O'Rourke will build Expo 2020's Leadership and Media Pavilions, and the event's 'Hammerhead' access road to Al Wasl Plaza. In addition, Laing O'Rourke will deliver landscaping and associated mechanical, electrical and plumbing works.
With a diameter of 150m, Al Wasl Plaza will form the centrepiece of Expo 2020's 4.38sqkm site in Dubai South. It will include a massive steel trellis dome, the contract for which was awarded to Cimolai Rimond ME in November 2017.
Ahmed Al Khatib, Senior Vice President of Real Estate and Delivery at Expo 2020 Dubai, said: "We are on track to deliver an exceptional site for an amazing Expo.  
"We are delighted to announce Laing O'Rourke as the main contractor for these important two contracts. The company was selected from among strong international competitors due to its keen understanding of our technical and commercial requirements. It has a long and prestigious history within the UAE construction sector.
"These projects will be constructed in close proximity to the UAE Pavilion and other pavilions. This area is already a hive of construction activity, with all of these projects being built simultaneously. With this in mind, close collaboration between construction companies on site will be vital to coordinate logistics and ensure that work continues according to our schedule."
Laing O'Rourke is due to commence work on 28 January, 2018. All shell-and-core construction on site is scheduled to be completed by October 2019 – a full year before Expo opens on 20 October, 2020.
Speaking during a visit to the Expo 2020 site, Ray O'Rourke, Chief Executive at Laing O'Rourke, said: "The continuation of work in Dubai South is a great opportunity to showcase the strength of our Middle East team on Expo 2020. We are committed to local employment in the region, and innovation, through our approach to offsite manufacturing, building on the knowledge and experience we have gained in the Emirates over the past decade.
"We are delighted that Laing O'Rourke has been chosen to build these prestigious projects, and look forward to playing our part in the first World Expo in the Middle East, Africa, and South Asia (MEASA) region in 2020."
Construction related to Expo 2020 is expected to reach its peak towards the end of 2018 and early 2019.
Ahmed Al Khatib said: "Today marks 1,000 days before Expo 2020 Dubai opens its doors to the public. However, with all heavy construction activities due to be completed more than a year before the Expo's inauguration, it is essential that work continues to progress smoothly."
Through its overall theme, 'Connecting Minds, Creating the Future', Expo 2020 Dubai will be a celebration of ingenuity that provides a platform to encourage creativity, innovation and collaboration, underpinned by its three subthemes: Opportunity, Mobility, and Sustainability.
In keeping with Expo 2020's subtheme of Sustainability, Laing O'Rourke and its fellow construction companies will work together with Expo 2020 to ensure environmental, economic, worker welfare, and health and safety best practice.
All of Expo 2020's buildings will meet or exceed LEED Gold standards.
Expo 2020's Leadership and Media Pavilions will be transformed into hotels post-Expo, as part of the District 2020 legacy development project. The Leadership Pavilion will accommodate UAE leadership during the Expo.
The Hammerhead, so called because of its distinctive shape, will house a ramped access road for Expo 2020's truck tunnel – a subterranean road that will run underneath Al Wasl Plaza. It was designed by Pasadena-based Parsons Corporation.