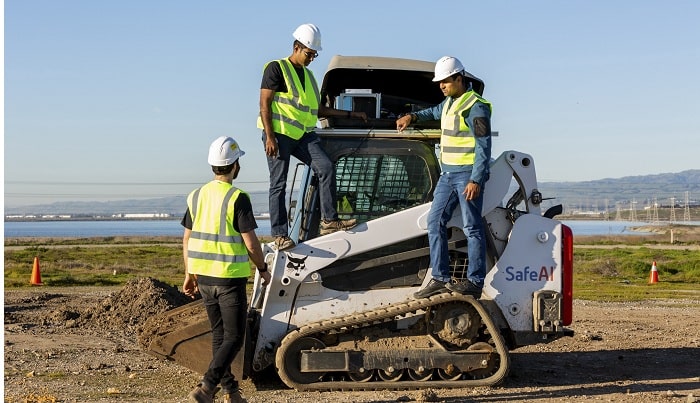 Macnica, Inc. (Japan),a $5 billion global service and solution provider for semiconductors, networks, cyber security, artificial Intelligence and IoT has signed an agreement with SafeAI, Inc. (USA) to bring SafeAI's autonomous vehicle technology, designed and built specificallyfor heavy equipment and vehicles, to Japan.
The construction industry has been facing a global labor shortage over the past decade, and the recent COVID-19 outbreak has only exacerbated the labor shortage and added labor uncertainty to this critical industrial sector. This problem is acute in Japan which has a low birth rate and ageing population which has significantly increased the average age of an operator. Thus, Macnica and SafeAI have formed a partnership to make the vision of autonomous construction a reality. Their joint solution will offer construction companies the ability to deploy labor-saving, productivity-increasing autonomous solutions on existing equipment on-site and immediately address pain points with minimal capital expenses.
SafeAI leverages production experience, knowledge of safety standards, and expertise in the implementation of artificial intelligence to provide solutions for retrofitting existing heavy construction vehicles with completely autonomous capabilities, allowing task-specific autonomy for its clients. SafeAI will deploy their perception, path planning, and AI algorithms and alongside with Macnica who will bring the best hardware providers for drive-by-wire, lidar, camera, GPS etc. SafeAI's platform is designed with openness, modularity and upgradeability in mind to help ensure that its clients can take advantage of new advances in autonomy hardware as they become available. Bibhrajit Halder, Founder, and CEO of SafeAI said, "We strongly believe this collaboration with Macnica is a major step for SafeAI to accelerating autonomy in construction. I am very pleased to partner with Macnica and looking forward to a long journey into the future together."
Macnica will provide SafeAI's autonomous solution to domestic heavy machinery and equipment manufacturers. Macnica has been involved in the autonomous driving market of Japan for several years and foresees a high demand for automation in the construction market. Atsushi Sato, General Manager of Strategic Innovation Group in Macnica said, "I am thrilled to announce the collaboration with SafeAI. We see many companies willing to achieve autonomous driving for construction machinery, and I am confident that we can build strong solutions for them with SafeAI."
This partnership represents the initial phase of the business alliance. The companies said they will continue to explore areas for further growth as part of a long-term partnership.
About SafeAI
Founded in 2017, SafeAI specializes in bringing autonomy to the mining and construction industry by retrofitting heavy equipment for autonomous applications. The SafeAI team has 30 years of cumulative experience in advanced autonomoustechnology, having worked on Autonomy 1.0 and 2.0 at Caterpillar, Apple, Google, and Uber. SafeAI is backed by automotive and construction venture funds including Autotech Ventures, Brick & Mortar Ventures, Embark Ventures, Monta Vista Capital, Obayashi, and Foundamental. The company is headquartered in Silicon Valley, USA with regional offices in Australia and Canada.
About Macnica
Since it was established in 1972, Macnica has provided leading-edge semiconductors, electronic devices, networks and cyber security products with high value-added technology. More recently, Macnica has been actively developing new businesses in the fields of AI, IoT, automated driving and robotics, based on its strength in global sourcing and strategic planning for world-leading technologies. With its slogan "Co.Tomorrowing", Macnica connects leading-edge technologies with 'Macnica' intelligence to provideunique services and solutions, *creating social value and contributing to the betterment of future societies. Headquartered in Yokohama, Macnica's global business spans 24 countries and 84 locations worldwide.