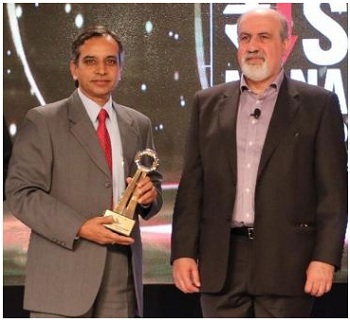 L&T has been conferred the prestigious 'Best Capital Projects & Infrastructure Risk Management Award' at the India Risk Management Awards event organized by CNBC TV18 the country's leading business news channel – in Mumbai on March 27, 2017.
The award recognises L&T's new growth benchmarks and excellent risk management practices that have been built into the Company's business operations for effectively navigating the uncertain waters of the global economy.
Mr. R. Shankar Raman, Board Member & CFO, L&T, received the award from Mr. Nassim Nicholas Taleb – Lebanese-American Scholar, Statistician and Risk Analyst.
L&T has in place a comprehensive enterprise-wide risk management framework encompassing the Company's overall risk profile. Guided principally by the idea of safeguarding the interest of the stakeholders, the approach relies on proven mechanisms for effective risk management.
Now in its third year, CNBC-TV18 India Risk Management Awards recognise companies that have created world class risk management practices. The awards are given to deserving companies after a thorough assassement of company data, its systems and frameworks in place.