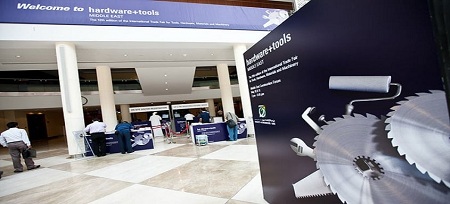 Hardware Tools Middle East looks ahead to a successful 2017 edition, with interest from hardware and tools manufacturers continuing, as market sentiments begin to stabilise across the region.
Despite signs of slowing demand in other regions, the market for hardware and tools in the wider Middle East remains robust, the chief factor bringing in inquiries about participation in Hardware+Tools Middle East 2017, from tools and hardware manufacturers around the world.
As the sole dedicated trade event for hardware, tools, material and machinery with a footprint spanning the wider Middle East, Central Asia, North and East Africa, the 18th edition of Hardware+Tools Middle East, is expected to feature even wider participation than the previous edition. Last year, the show featured 185 exhibitors representing over 250 brands and drew in 2,874 trade visitors from as many as 67 countries.
"Being the only representative trade show for this vital sector, which is being driven by continued economic expansion and steady growth in construction and infrastructure creation, Hardware+Tools Middle East remains the natural choice for manufacturers and suppliers to reach a vast and varied market," said Ahmed Pauwels, CEO of Messe Frankfurt Middle East, the organiser of Hardware+Tools Middle East.
"With a majority of the trade visitors to the show being actively involved in the purchase and decision making process, Hardware+Tools Middle East places exhibitors in a position of advantage by bringing them in direct contact with actual buyers from across the region."
The current market for tools and machinery in the UAE has been estimated at over AED 10 billion and this is trending even higher, which makes the region a coveted prize for global hardware and tools brands.
The previous edition of Hardware+Tools Middle East attracted nearly 3,000trade buyers from across the Middle East and North Africa, including distributors, retailers, exporters, importers, contractors, fabricators, consultants and industry professionals involved in the booming regional construction sector.
"The show is great, we are more than happy with what the organisers have done by putting this wonderful show together," said R. Sasi Kumar, Business Development Manager of Uken Tools. "The Expert Zone is a very good idea. The exhibition is the right place not only for us but all the participating exhibitors to showcase their products in the growing Middle East market. The UAE is a fast-developing market with lots of construction happening and safety is its priority so we know that being here would be a two way approach for us to grow and well as be best of this growing market."
Italian manufacturer of warehouse applications, Vipa was looking to expand their international presence through their participation at Hardware+Tools Middle East.  "Our presence in this exhibition is to find distributors and agents in the Middle East. These products can be used everywhere where there is a need to store anything. Hardware+Tools exhibition attracts the right visitors to help us serve the purpose for which we came here," said Laura Pasquini, Marketing & Communication, Vipa.
"Extremely happy with the show and are extremely excited to be here as it has been busy for us throughout," were the words of Sumit Kumar Chordia, Managing Director of WIHA – another exhibitor extremely satisfied with the outcome of participation in the 2016 edition. "We had great opportunities to meet with our customers and distributors so it was great to build on our relationship with them. Not only existing customers, but we have also built new contacts and look forward to doing more business.
"The show is very niche and focused yet the response we received at the show has been very surprising. The visitors are well-focused and are the right people that we need at our stand and for us to extend our market in the Middle East," said Steve Park, President, Dukshin who were also among the satisfied exhibitors taking part in Hardware+Tools Middle East 2016.
Hardware+Tools Middle East 2017, which will run from May 22-24, 2017 at the Dubai International Convention and Exhibition Centre is expected to draw in over 200 exhibitors from 11 countries and a wide spectrum of trade buyers from across the region, keen to interact with and sign deals with leading international manufacturers and suppliers. Popular features such as the Expert Zone will also make a return this edition.
Hardware+Tools is the Middle East's only dedicated event for tools, hardware materials and machinery.  Industry  professionals  involved  in  the  supply  of  equipment  to  or  the design, construction, build or specification of commercial or residential developments understand the importance of keeping up to date with new products, services and technology in the field.
Hardware+Tools Middle East is the perfect platform to meet new contacts, discuss new trends and technological developments, keep up to date with industry knowledge and source new products and solutions. The next edition will take place from 22-24 May 2017 at the Dubai International Convention and Exhibition Centre. Show website: www.hardwaretoolsme.com
Messe Frankfurt
Messe Frankfurt is the world's largest trade fair, congress and event organiser with its own exhibition grounds. With some 2,400 employees at 30 locations, the company generates annual sales of over €640 million. The Messe Frankfurt Group has a global network of 30 subsidiaries and 55 international sales partners, allowing it to serve its customers on location in 175 countries. Messe Frankfurt events take place at approx. 50 locations around the globe. In 2016, a total of 138 trade fairs were held under the Messe Frankfurt umbrella, of which more than half took place outside Germany.  Thanks to its far-reaching ties with the relevant sectors and to its international sales network, the Group looks after the business interests of its customers effectively. A comprehensive range of services – both onsite and online – ensures that customers worldwide enjoy consistently high quality and flexibility when planning, organising and running their events. The wide range of services includes renting exhibition grounds, trade fair construction and marketing, personnel and food services.  With its headquarters in Frankfurt am Main, the company is owned by the City of Frankfurt (60 percent) and the State of Hesse (40 percent).For more information, please visit our website at: www.messefrankfurt.com
About Messe Frankfurt Middle East GmbH
The portfolio of events for Messe Frankfurt Middle East includes Automechanika Dubai, Automechanika Jeddah, Automechanika Riyadh, Beautyworld Middle East, Hardware+Tools Middle East, Intersec, Intersec Saudi Arabia, Leatherworld Middle East, Light Middle East, Materials Handling Middle East, Materials Handling Saudi Arabia, Paperworld Middle East, and Prolight + Sound Middle East.  The subsidiary also organises a series of conferences and seminars including the BOHS Worker Health Protection Conference, the Business in Beauty Summit, the Light Middle East Conference, Smart Traffic Middle East, and Future Mobility. For more information, please visit our website at www.messefrankfurtme.com
Contact
Gareth Wright, Samah Mousa
Dubai, UAE
Tel: +971 4 3894 573
Gareth.wright@uae.messefrankfurt.com
Samah.mousa@uae.messefrankfurt.com