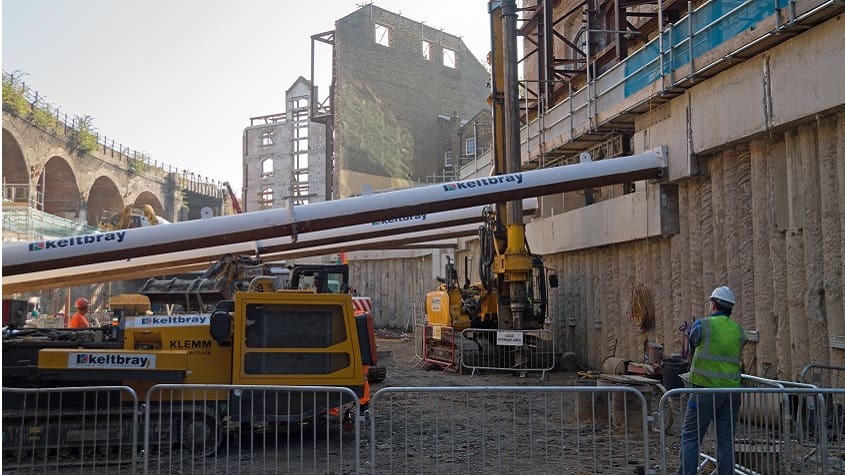 Keltbray and City, University of London, have announced the signing of a collaborative agreement to develop innovative technical solutions which will result in unprecedented efficiencies in the design and construction of foundations.
The identified work streams will span the entire value chain, with the goal of developing lean and efficient products and services which have been projected to enter the civil engineering marketplace within the next two years.
Both Keltbray and City recognise the centrality of the construction industry in the UK economy, and fully embrace the Government's industrial strategy and vision for Construction 2025.
Principally the challenges as set out by the UK Government are:
• Targeting 33% lower initial construction costs and the whole life cost of as-built assets
• A 50% reduction in the overall time from inception to completion for new build and refurbished assets
• A 50% reduction in greenhouse gas emissions in the built environment
• A 50% improvement in the trade gap between total exports and imports for construction products and materials
Keltbray Group Innovation director Michael Pelken said:
"In the risk-averse field of construction, the creation of technologically progressive, environmentally ground-breaking or economically disruptive solutions have been compromised by slow innovation cycles. We are looking to close acknowledged gaps between academic and industry-led research and development models by intensifying the knowledge and technology transfer between the two settings. This collaboration agreement is part of our wider ambition to increase our technological awareness and progress a number of innovative ideas that we have. The scope hereby spans from development to deployment and the dissemination of new knowledge. We can only achieve this through new, exciting collaboration models between leading industry, supply chain, and academic partners."
Stuart Norman, Managing Director of Keltbray Piling said:
"Our shared goals are appropriately outlined within the construction 2025 agenda and we recognise that strong leadership and collaboration across different sectors of the industry is required in order to drive larger industry change. We are excited about the plans we have made for significant short, mid and longer term impact".
Head of City's Civil Engineering Department, Professor Sarah Stallebrass, added:
"We are delighted to be collaborating with Keltbray to exploit current and future innovation and research in order to drive a step change in foundation construction methodology. The collaboration will result in genuine benefits to both the construction industry and the UK economy, alongside significant improvements in sustainability. We are already developing a close and productive partnership leading to optimised solutions and which we hope will be sustained for many years."
Commenting on the collaboration, Dr Andrew McNamara, Senior Lecturer in Civil Engineering at City, said:
"Solid partnerships between academia and industry are rare and our relationship with Keltbray Piling will enable City to model a wide range of innovations in deep foundations that can be rigorously analysed and evaluated in the field. Developments in piling over the last 50 years are mostly limited to the construction of ever larger, deeper and, consequently, less efficient foundations. Our partnership will transform the way that foundations are designed and constructed. We aim to bring piling in line with other aspects of construction where positive change has been ingrained in the design and construction of sustainable structures above ground".