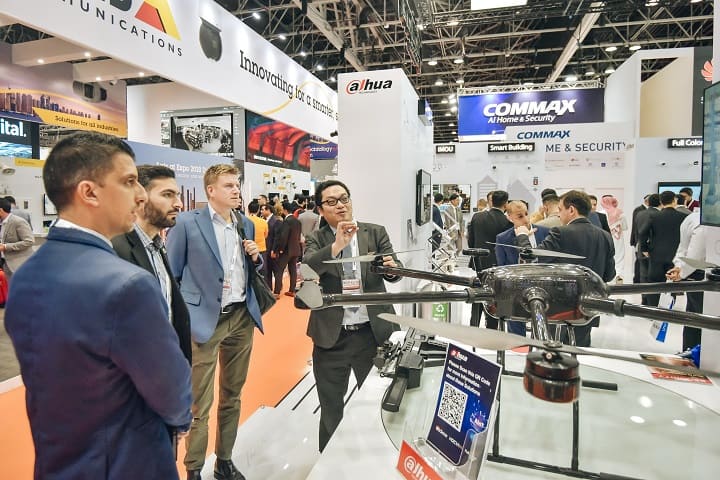 The 24th edition of Intersec will take place 17-19 January 2023 at Dubai World Trade Centre. Bringing together key players in Commercial & Perimeter Security, Homeland Security, Fire & Rescue, Safety & Health, and Cyber Security, Intersec creates a unique platform for buyers, sellers and decision makers to meet, network and do business. The exhibition brings the latest technology and innovations across the entire value chain from around the world to Dubai.
The five pillars of Intersec are Commercial & Perimeter Security, Homeland Security, Fire & Rescue, Safety & Health, and Cyber Security. One of the key reasons that Intersec remains a market leading event year after year is that every element is affiliated with the relevant government entities in the UAE, which, along with the Patronage of HH Sheikh Mansoor Bin Mohammad Bin Rashid Al Maktoum, demonstrates the importance of these industries. Dubai Police and the Security Industry Regulatory Authority (SIRA) are affiliated with the security sector; Dubai Civil Defence with the Fire & Rescue element of Intersec; while Dubai Municipality supports the safety sector and the Cyber Security Council and Dubai Electronic Security Center (DESC) underscore the importance of the cyber sector.
A Gathering of Industry Names
Intersec is truly global, expecting around 1000 exhibitors from around the world – and an incredible 80% of the companies exhibiting are travelling from as far afield as the USA, Europe and Asia, in addition to the wider Middle East region.
For the Fire & Rescue section in particular, there are over 400 fire sector exhibitors taking part at Intersec 2023 from all corners of the globe. One key exhibitor, a founding partner of Intersec 2023 will be NAFFCO – one of the world's the world's leading producers and suppliers of top-tier firefighting equipment, fire protection systems, fire alarms, security and safety engineering systems worldwide. Commercial & Perimeter Security, the second largest sector represented at Intersec 2023 will feature companies such as IDIS Global, returning for their tenth appearance at Intersec, whose primary launch at the show will be a new range of advanced and highly accurate edge AI dome and bullet cameras, as well as its innovation for SMES, AI Box for Surveillance.
Homeland security is dedicated to products and solutions for Homeland Security, Law Enforcement, Airport, and Aviation Security. Exhibitors in this section will include strategic sponsor SAFE, from Saudi Arabia, alongside AGMC, one of the largest importers for the BMW, who plans to launch four police bikes and two armoured cars.
The Safety and Health sector will be divided into environmental, industrial, and public health and safety, and Cyber Security will host cyber solutions, experts, from national leaders to public & private sector professionals, from cyber connoisseurs to advisors, and cyber economists to corporate buyers.
Organisers anticipate up to 30,000 security, emergency response, safety and cybersecurity professionals attending Intersec 2023, in addition to receive delegations of Civil Defence representatives, including Director Generals, from around the region, including other Emirates such as Abu Dhabi and Sharjah, as well as Saudi Arabia and other locations within the GCC.
New Features Add a New Dimension for Intersec 2023
The addition of fantastic new features will bring a new dimension to Intersec for the 2023 edition. These will include the Attack Zone hosted by the Loss Prevention Certification Board; the Safety Walk showcase where exhibitors can to showcase and demonstrate their latest safety clothing and products; the Tech Stage gathering tech disruptors, innovators and thought leaders and finally Start Smart Zone connecting start-ups directly with key decisions makers, buyers and investors.
Conference Streams to Improve Industry Knowledge
Intersec 2023 will also feature a comprehensive conference stream with four dedicated segments including the Intersec Security Leaders' Summit, Cybersecurity Conference, Fire & Rescue Conference hosted by Dubai Civil Defense, and Safety & Health Seminars; each specifically developed to bring together the best and brightest minds in their respective market sector to offer the most value to attendees. Attendees to these events will benefit from knowledge and insights from key players from around the world.
Awards Will Recognise Achievement
Another unmissable event will be at the Intersec Awards – a glittering gala dinner dedicated to celebrating success and innovation. Taking place during the evening on the second day of Intersec, Wednesday 18th January at the Ritz Carlton Dubai, the ceremony will recognise and reward the products and people in the industry for innovation, sustainability, commitment and achievement. With around 350 attendees expected for the celebration, tickets are selling fast.
Intersec 2023 has the support of Dubai Police, the Directorate General of Dubai Civil Defence, The Security Industry Regulatory Agency and Dubai Municipality. For more information or to register to attend, please visit https://intersec.ae.messefrankfurt.com/dubai/en.html