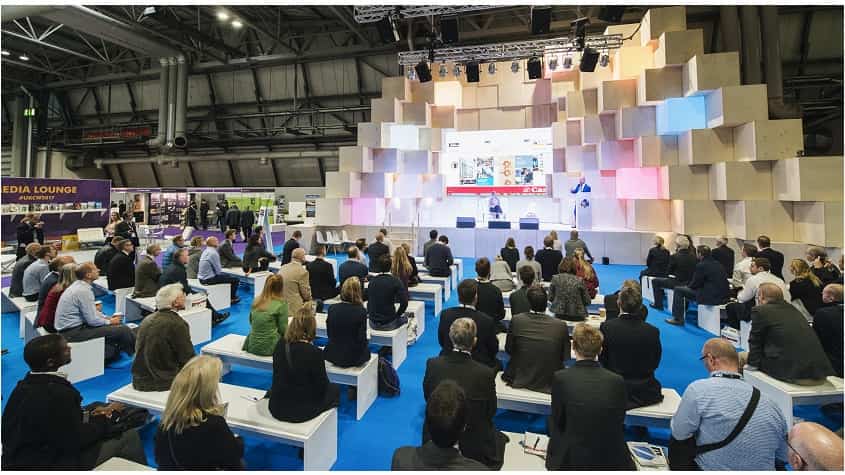 Increasing diversity in construction points to a better future at UK Construction Week Day two of UK Construction Week started in the early hours of Wednesday morning with BBC Breakfast live onsite to film the largest construction trade show in action.
Stephanie McGovern, Business Journalist and Broadcaster, chaired the second day of the show with seminars and panels combining topics such as diversity, skills, and digitalisation and technology. She said: "UK Construction Week brings together everyone in one room, albeit a massive room. There are so many stakeholders in the industry each bringing different experience and knowledge. This event is about sharing that and doing
business."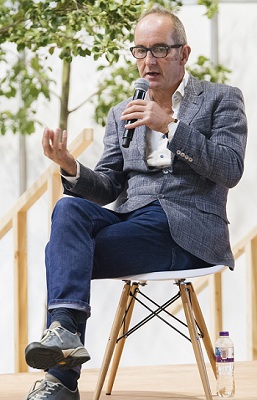 The first panel on the UKCW Main Stage explored how to increase productivity through workplace diversity, tackling issues such as the skills shortage, Brexit, economic uncertainty, and education. Panellists included Alison Waterworth, Senior Engineer at AECOM, Anne Timpany, Entrepreneur and Company Director from On Tap Plumbers, Harish Bhayani, Senior Partner at PRM Diversity Consultants, Peter Finegold, Head of Education, Skills, Policy and Research at IMechE, and Christina Riley, Senior Planner at Balfour Beatty.
Christina, who is also Chair of Balfour Beatty's LGBT & Allies Network, had this to say after the panel concluded: "I think the conversation about diversity has only really just begun. With 51% of the working population being women, but only 11% of them working in construction, the gender imbalance is huge. For LGBT+ people, the industry is still seen as one where homophobia, biphobia and transphobia still exists, which we need to change. The national curriculum and government agenda need to address the
current skills shortage if we're going to engage with the next generation of our industry. We have major projects set to be delivered over the next 20-30 years, but with people retiring at a quicker rate than we're recruiting, we need to address this now."
Next up, Mark Farmer, Founding Director and CEO of Cast Consultancy took to the stage to explore the implications and fallout from The Farmer Report one year on, particularly the overall response to the challenges he posed to the construction industry in his report. Speaking exclusively to UK Construction Week after the event, Mark said: "The big opportunity we have as an industry now is to engage with the future skills agenda and to start recognising the skills we need in the short to medium
term, this needs to reflect a journey towards higher levels of technology use and changing the way we deliver. This includes moving the balance between what's delivered in manufacturing facilities and what is traditionally built on site. This creates new opportunities in logistics, assembly and precision tolerance working. There are only a few events in the calendar where the UK construction industry comes together, and UK Construction Week is one of them. The full spectrum of the industry is represented
here showcasing innovation, best practice and the bedrock of our industry in action. It's a great event that shines a light on many of the positives of working in our industry."
Meanwhile, The Innovation Trail showcased the best products and services the industry currently has on offer, with British Power International showcasing its BPI POC Mast. A unique and cost-effective solution for future developers and network operators, the 'Point of Connection' mast offers a viable solution that provides significant design, installation, easy maintenance, health and safety, environment and cost benefits.


Over at the Surface & Materials Show, exhibitor Dural received a lot of interest in its unique 'Micro Joint' – an excellent choice for those seeking a slimmer, profiled expansion solution for flooring. What's more, Dural can custom design any of their profiles for maximum discretion or high impact with the use of colour or integrated branding. Bespoke is a key theme at this year's Surface & Materials Show, with exhibitors including brick and tile specialists H.G. Matthews displaying some striking options for customised hand glazing, and AY YIPPE creating a buzz with their high-impact decorative metal coating capability.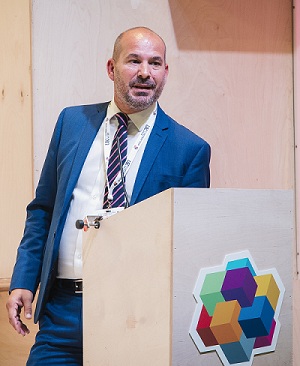 Over at the HVAC and Energy Hub, Ehab Sayed of Biohm examined the impact of 'living buildings' on wellbeing, productivity and resource efficiency – a concept promising to provide fresh momentum in the drive for more sustainable buildings.
Continuing the efficiency theme, Iain Gordon, President of KNX UK, delivered a talk on connected buildings to his audience over at the Smart Buildings Hub, exploring the productivity gains that can be achieved by implementing connected systems which offer unparalleled control for the end user.
Towards the end of the day, Kevin McCloud, designer and TV presenter, made an appearance on the main stage alongside a panel of industry experts to debate how we can build homes fit for generations, as well as tackling issues such as housing quality, modern methods of construction, and how to retain good design without slowing down the build process. For additional information on the full programme of events, please visit www.ukconstructionweek.com
Notes to Editors:
For more information or additional quotes, please contact Lisa Northcott / Kim Taylor from Holistic. Tel: 07885 980 154 / 07718 158 800 Email: lisa@holisticgroup.co.uk / kim@holisicgroup.co.uk
UK Construction Week (UKCW) is the UK's largest construction trade show. Free to attend it consists of nine shows:
• The Build Show runs from 10-12 October and is dedicated to the building and contracting areas of the construction industry – www.buildshow.co.uk/register
• Timber Expo runs from 10-12 October and is the only event on the UK construction calendar dedicated exclusively to timber – www.timber-expo.co.uk/register
• The Surface and Materials Show (featuring Kitchens & Bathrooms Live www.kitchensandbathroomslive.co.uk/register) runs from 10-12 October and will showcase the
latest surface and material solutions for specifiers, developers and industry professionals looking for cutting edge innovations within the materials sector –
www.surfaceandmaterialsshow.co.uk/register
• Civils Expo runs from 10-12 October and is the UK's leading event dedicated to civil engineering and construction, bringing together leading suppliers of the latest technologies, systems and products in the civil sector – www.civilexpo.co.uk/register
• Smart Building 2017 runs from 10-12 October and is the UK's leading event dedicated to integrated building technology – www.smartbuildingslive.co.uk/register
• Energy 2017 runs from 10-12 October and is the industry trade event dedicated to renewables, innovation and power solutions – www.energyliveshow.co.uk/register
• HVAC 2017 runs from 10-12 October and is the UK's dedicated exhibition for the heating, ventilation and air conditioning industries – www.hvaclive.co.uk/register
• Plant & Machinery Live runs from 10-12 October and will showcase the latest earth moving, lifting, handling & demolition products –www.plantandmachinerylive.co.uk/register
• Grand Designs Live runs from 11-15 October. Presented by design guru Kevin McCloud it is based on the hugely popular Channel 4 series. Grand Designs Live will be free to attend for trade on 11-12 October via UK Construction Week – www.granddesignslive.com/register