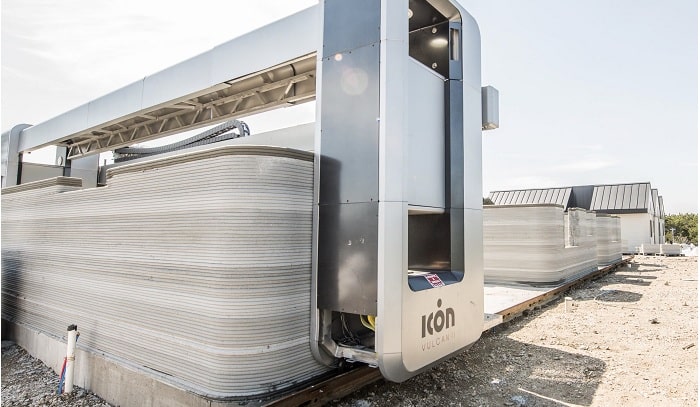 ICON, a construction 3D printing specialist based in Austin, Texas, has raised $35 million through a Series A funding round led by Moderne Ventures. The infusion of capital brings the promising young company's total investments to $44 million (it raised $9 million in a seed funding round in 2018). The funding will support the company as it continues to develop its 3D printing technology, design and build innovative 3D printed homes and advance its mission to provide cost-efficient and eco-friendly housing.
ICON is certainly one to watch in the construction AM sector. The young American firm printed its way into the spotlight in 2018 when it unveiled its first Vulcan 3D printer and printed a home in Austin, Texas. Since that iconic day, the company has advanced its 3D printing technology, introducing a next-gen Vulcan system and signing on to home building projects in Mexico (in collaboration with New Story) and the United States. In the U.S., ICON is working with Austin nonprofit Mobiles Loaves & Fishes to build homes for the chronically homeless at Community First! Village, and with the Defense Innovation Unit and United States Marine Corps to train marines to use its technology.
The $35 million investment will enable the company to not only continue to pursue these existing projects but to accelerate the development of its technology, while expanding its team and coming up with new 3D printed house designs. The company has also hinted that more partnerships are in the pipeline.
The Series A funding round was led by Moderne Ventures, and ICON has also appointed the VC firm's Founder and Managing Partner Constance Freedman to its Board of Directors. Khan Tasinga, Director at Palantir Technologies is also joining the board.
"Traditional building and construction techniques have not improved since B.C., they have only become more expensive," said Constance Freedman, Founder and Managing Partner at Moderne Ventures. "The results are vast deltas in affordability, limitations on design and both time and efficiency challenges. I believe we will see an evolution of the entire home-buying value chain, especially when integrated with other technologies like digital transactions and augmented reality. Consumers will be able to order, build, design and purchase a brand-new home in a matter of days – something that's truly innovative and truly disruptive. We are excited to support ICON as it continues to change the world."
The funding round also saw investments from international architecture firm BIG-Bjarke Ingels Group, CAZ Investments, Citi, Crosstimbers Ventures, Ironspring Ventures, Next Coast Ventures, Oakhouse Partners, Trust Ventures, Vulcan Capital and Wavemaker Partners.