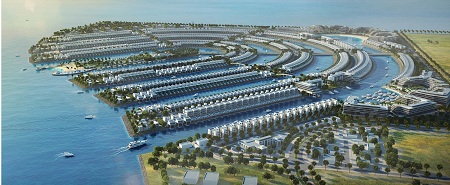 SSH has been appointed by Manara Developments BSC to provide design and construction supervision of infrastructure for the Hasabi Waterfront Development in the Kingdom of Bahrain.
The Hasabi Waterfront Development is a mixed-used project located in the south of Bahrain adjacent to the Durrat Al Bahrain Development.
The mixed-use Hasabi development was designed in line with the most advanced aesthetic and construction design standards. The project homes three- and four-bedroom residential villas, each with a private jetty, as well as commercial developments for sea-view restaurants and coffee shops to serve the daily needs of residents, in addition to beach facilities and residential buildings three and four floors high.
The SSH scope of services comprise the design and construction supervision of infrastructure works for the project, which includes the design of all road and utility networks; the work is being undertaken in close coordination with the master planning consultant appointed by the client.
"We are proud to have been awarded the contract to undertake the design and construction supervision of the infrastructure work for this major project in Bahrain," said Mark Jamieson,Infrastructure Director for SSH. "The Hasabi Waterfront Development is an exciting project for SSH. Our specialist experience on similar schemes, combined with our extensive knowledge of the Bahraini infrastructure project market, will enable fast and efficient delivery of the infrastructure works, with our services specifically tailored to meet our client's requirements."
About SSH:
SSH is one of the leading master planning, infrastructure, building design and construction supervision firms in the Middle East, with a reputation for design integrity and a portfolio that includes landmark projects throughout the region. The firm maintains offices in Abu Dhabi, Algeria, Bahrain, Dubai, Iraq, Kuwait, London, Oman, Qatar, Saudi Arabia and South Africa.
Founded in 1961, we employ more than 1,300 high-calibre local, regional and international experts in their individual fields, most of whom are from globally renowned international consultancy firms. We ranked 3rd architecture company in the Middle East among the top 100 Architects in the world and number one design firm in the culture sector in the World by World Architecture Magazine in 2015 and 2016. We were also ranked in 92nd place among ENR's Top 225 International Design Firms, the 2nd highest ranking firm in the Middle East in 2016.
SSH's multifaceted practices include architecture, urban design and planning, structural and civil engineering, MEP/building services, interior design, highway and bridge engineering, storm water drainage, utility design, sanitary engineering, marine engineering and district cooling, in addition to high-profile project management and construction supervision services.