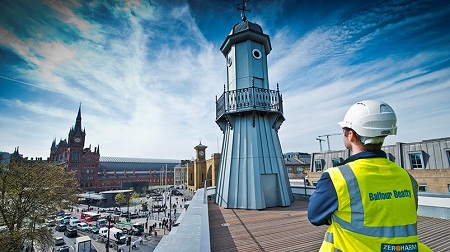 Balfour Beatty,the international infrastructure group, today announces its notification of intent to be awarded two contracts by High Speed 2 (HS2), worth a combined total of c. £2.5 billion.
The two contracts have been awarded to Balfour Beatty's 50:50 joint venture with VINCI. Balfour Beatty VINCI will deliver Lot N1, valued at c. £1.32 billion, and Lot N2, valued at c. £1.15 billion, between the Long Itchington Wood Green tunnel to the Delta Junction / Birmingham Spur and from the Delta Junction to the West Coast Main Line tie-in respectively, in a two-part design and build contract.
The contract awards reflect the innovative and collaborative nature of the joint venture. Balfour Beatty's in-depth knowledge and expertise of British transport will be applied and complemented with the capabilities of VINCI's High Speed Tours-Bordeaux project in France. Collaborating in this way, the joint venture will deliver one of Britain's largest infrastructure projects in decades, creating thousands of jobs and supporting the economic growth of the country.
Leo Quinn, Balfour Beatty Group Chief Executive, said: "This is a generational engineering project. HS2 will provide vital infrastructure not only to rebalance the economy, but also to fuel growth in skills, jobs and prosperity across the UK for the future.  Balfour Beatty's joint venture with VINCI has world-class capability in this area and our selection as preferred bidder for two sections is a major endorsement of our strength."
Main construction work is scheduled to start in 2018/19, following a period of detailed design work.
Analyst/investor enquiries:
Angus Barry
Tel. +44 (0)20 7216 6824
angus.barry@balfourbeatty.com
Media enquiries:            
Antonia Walton
Tel. +44 (0)207 963 2267
antonia.walton@balfourbeatty.com
Balfour Beatty (www.balfourbeatty.com) is a leading international infrastructure group. With 30,000 employees, we provide innovative and efficient infrastructure that underpins our daily lives, supports communities and enables economic growth. We finance, develop, build and maintain complex infrastructure such as transportation, power and utility systems, social and commercial buildings.
Our main geographies are the UK, US, and Far East. Over the last 100 years we have created iconic buildings and infrastructure all over the world including the London Olympics' Aquatic Centre, Hong Kong's first Zero Carbon building, the National Museum of the Marine Corps in the US and the Channel Tunnel Rail Link.
Balfour Beatty VINCI represents a powerhouse for critical infrastructure across Rail, transport and other iconic projects in the UK and beyond. Balfour Beatty VINCI's involvement in groundbreaking Design Build Finance and Operation (DBFO) projects offers a unique end-to-end asset knowledge that is crucial in developing the best solutions to the infrastructure needs of the UK.  Balfour Beatty and VINCI started working together over 30 years ago when both were members of the TransManche Link consortium which delivered the Channel Tunnel. Balfour Beatty VINCI has successfully bid and delivered a number of key projects including Crossrail and the M4, M5, M6 smart motorway programme.  As leading infrastructure groups, both Balfour Beatty and VINCI Construction offer opportunities for trainees, apprentices, placement students and graduates as well as sponsored degree opportunities.