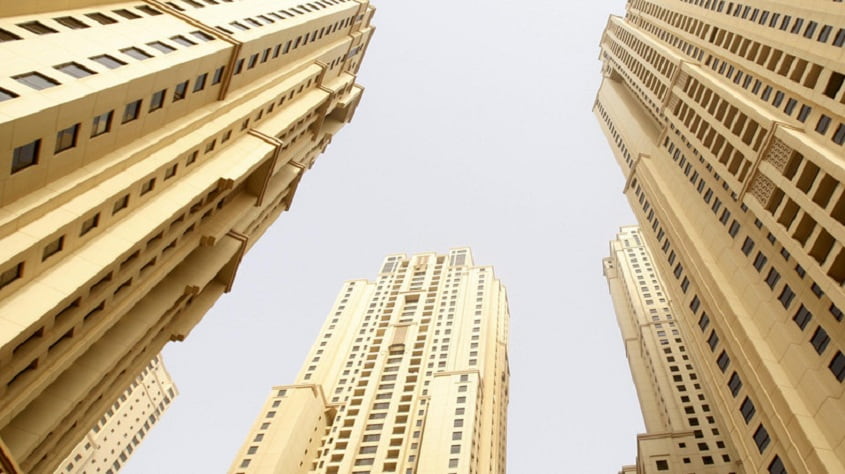 Rising oil prices and increased government spending is fuelling demand in the GCC's construction sector, with contractor awards across the region's building, infrastructure and energy markets expected to be worth US$148.7 billion in 2018, a report published today has said.
According to a white paper by research specialists Ventures Onsite, buildings will hold the lion's share of what's expected to be a huge pipeline of projects in 2018, while the UAE will remain as the undisputed leader in the GCC total construction contractor awards for the year.
In 2018, it's estimated that US$79.1 billion worth of construction contractor awards will be attributed to buildings inthe Gulf Cooperation Council (GCC), followed by energy projects (US$44.9 billion), and infrastructure (US$24.6 billion).
The total value of expected construction contractor awards in 2018 is slightly up on the 2017 figure (US$147.8 billion), according to Ventures, as economic activity picks up across the region amid a revival in non-oil sector growth and broad fiscal reforms.
The March 2018 report, titled: 'Snapshot of the GCC Construction Industry', was released ahead of the Hardware + Tools Middle East 2018 trade fair, which takes place next week from 2 – 4 April at the Dubai International Convention and Exhibition Centre.
The three-day event is the Middle East's only dedicated exhibition for tools, hardware, materials, equipment and machinery, and is expected to feature 115 exhibitors showcasing 180-plus brands targeting the region's revived construction sector.
Ahmed Pauwels, CEO of Hardware + Tools Middle East's organiser Messe Frankfurt Middle East, said: "Ongoing investments in infrastructure and commercial projects as well as upcoming mega international events planned for the GCC continue to drive regional construction activity.
"The construction sector is among the chief bellwethers of economic development and progress in the region and the current positive mood is reflected among global hardware, tools and machinery brands looking to gain further traction in one of the world's most exciting markets today."
The breakdown of the GCC construction market comprises buildings (residential, commercial, mixed use, airports, sports facilities, hotels, healthcare, educational facilities and industrial projects), infrastructure (roads, bridges, railways, ports, wastewater and sewerage), and energy (oil & gas and power & water).
According to Ventures, the UAE will hold a 33 percent share (US$50.4 billion) of the Gulf region's total construction contractor awards in 2018, followed by Saudi Arabia, with a 27 percent share (US$40 billion).
The buildings segment will register the most growth year-on-year, with the UAE leading the way here as well. The expected US$79.1 billion of building construction contractor awards across the GCC in 2018 is 10 percent up on the previous year (US$71.9 billion), with the UAE comprising US$37.3 billion of that figure.
Now in its 19th edition, Hardware + Tools Middle East attracts trade buyers from across the Middle East and North Africa, including distributors, retailers, exporters, importers, contractors, fabricators, consultants and industry professionals involved in the construction and industrial sectors.
Leading debut exhibitors on-board for 2018 include Japan's DMG MORI, a worldwide manufacturer of machine tools; and UAE-based Narex Industrial Tools and Equipment, the regional exporter of popular metal working brands such as Carif, Steeltailor, Hypertherm, Atlascopco, Han's Laser, and Simasv.
Returning headline exhibitors include Middle East Fuji, the Middle East distributor for the Nitto Kohki Power Tool range from Japan and Knipex pliers from Germany; and Dar Al Mas, the exclusive UAE distributor for German hand tool manufacturer Wiha.
Hardware + Tools Middle 2018 returns with the Tool It! Challenge, where the UAE's best tool operators do battle in a live competition, testing skill, speed and smarts across metal and wood working categories.
Top brands will also deliver live demonstrations at the three-day event's Expert Zone, a dedicated area showcasing the latest innovative solutions and machine tools shaping the future of all types of industries, from fabrication and metal working to oil & gas and outdoor landscaping.
The 'Snapshot of the GCC Construction Industry' report can be downloaded at www.hardwaretoolsme.com
Hardware+Tools Profile
Hardware+Tools is the Middle East's only dedicated event for tools, hardware materials and machinery. Industry professionals involved in the supply of equipment to or the design, construction, build or specification of commercial or residential developments understand the importance of keeping up to date with new products, services and technology in the field.
Hardware+Tools Middle East is the perfect platform to meet new contacts, discuss new trends and technological developments, keep up to date with industry knowledge and source new products and solutions. The next edition will take place in May 2018 at the Dubai International Convention and Exhibition Centre. Show website: www.hardwaretoolsme.com
Background information on Messe Frankfurt
Messe Frankfurt is the world's largest trade fair, congress and event organiser with its own exhibition grounds. With over 2,500* employees at some 30 locations, the company generates annual sales of around €661* million. Thanks to its far-reaching ties with the relevant sectors and to its international sales network, the Group looks after the business interests of its customers effectively. A comprehensive range of services – both onsite and online – ensures that customers worldwide enjoy consistently high quality and flexibility when planning, organising and running their events. The wide range of services includes renting exhibition grounds, trade fair construction and marketing, personnel and food services. With its headquarters in Frankfurt am Main, the company is owned by the City of Frankfurt (60 percent) and the State of Hesse (40 percent). * Preliminary figures for 2017
Further information:
www.messefrankfurt.com | www.congressfrankfurt.de | www.festhalle.de
About Messe Frankfurt Middle East GmbH
Messe Frankfurt Middle East's portfolio of 16 exhibitions includes Automechanika Dubai, Automechanika Jeddah, Automechanika Riyadh, Beautyworld Middle East, Beautyworld Saudi Arabia, Hardware + Tools Middle East, Intersec, Intersec Saudi Arabia, Leatherworld Middle East, Light Middle East, Materials Handling Middle East, Materials Handling Saudi Arabia, Middle East Cleaning Technology Week, Paperworld Middle East, Prolight + Sound Middle East, SPS Automation Middle East, The subsidiary also organises a series of conferences and seminars including the Worker Health Protection Conference, the Business in Beauty Summit, Think Light, and the International Conference on Future Mobility. For more information, please visit our website at www.messefrankfurtme.com