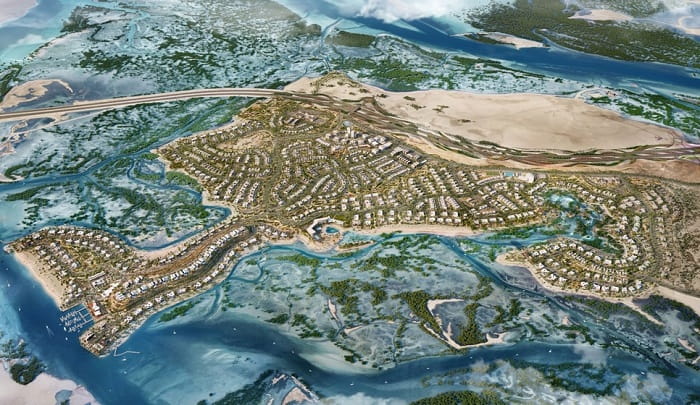 Abu Dhabi-based general contracting firm Gulf Contractors Company (GCC) has won more than $21.8m (AED80m) worth infrastructure works contract for the $1.4bn (AED5bn) Jubail Island, which is being developed by Jubail Island Investment Company (JIIC).
GCC has commenced infrastructure works on two of the megaproject's six villages, Marfaa Al Jubail and Souk Al Jubail as part of the 18 month-long package, the UAE's state-held news agency, Wam reported.
Overall infrastructure works at Jubail Island is valued at approximately $163.4m (AED600m), with JIIC having already approved contracts worth $32.7m (AED120m).
Scope of work for GCC covers the construction of a 3km-long public loop road circling around Souk Al Jubail to provide road connectivity and access to the neighbouring villages, plus the construction of 5km of internal roads in Marfaa Al Jubail.
GCC will also carry out utility-based infrastructure development, including electricity, water, sewage, irrigation, telecom, and gas networks, in addition to street lighting.
Commenting on the contract awards, managing director of JIIC, Mounir Haidar, said: "Following the completion of the enabling works, we are delighted to confirm the start of phase one of infrastructure works on Jubail Island, demonstrating our commitment to on-time delivery of plots as early as Q3 2021."
"Due to our notable industry experience, coupled with the highest quality and construction standards, Jubail Island is well on track to emerge as the most desirable community in Abu Dhabi and will present an attractive investment opportunity for those with a keen eye for a quality portfolio."
According to Haidar, Modon Properties alongwith the Government of Abu Dhabi are developing the Jubail Mangrove Park.
In May 2019, GCC was also awarded enabling works contract for Jubail Island, with the works set to be completed by January 2020.