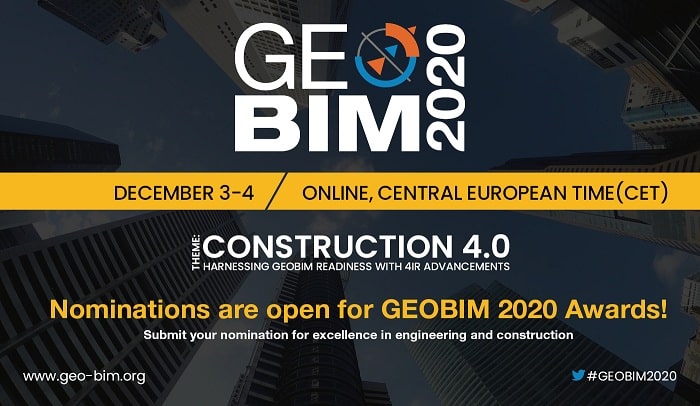 GEOBIM 2020 conference is inviting nominations for the GEOBIM 2020 Awards. GEOBIM Awards recognize exemplary practices of implementing digital technologies in the architecture, engineering and construction sector. The awards will be held during the first day of the two-day virtual GEOBIM 2020 conference, i.e. on 3rd December 2020.
The architecture, engineering and construction sector is a critical sector of the economy, because of which a lot of rides on productivity and efficiency in the AEC sector. For this vast and highly information dependent sector it is critical to effectively capture, process and share spatial information. Incorporating BIM with geospatial and 4IR technologies including AI, IoT, big data analytics, Cloud, AR/VR, is at the core of this process. The early adopters of digital technologies are leading the digital transformation and paving the way for accelerated digitalization of this sector.
GEOBIM Awards 2020 will recognize and celebrate organizations who continue to perform par excellence by implementing digital technologies in the Architecture, Engineering and Construction Industry.
Nominations are invited in the following categories:
EXCELLENCE IN SURFACE TRANSPORT SYSTEMS (ROAD / RAIL)
EXCELLENCE IN BUILDINGS AND CAMPUSES
EXCELLENCE IN SUBSURFACE UTILITY NETWORKS
EXCELLENCE IN ARCHITECTUAL PRACTICE
EXCELLENCE IN DIGITAL INNOVATION
EXCELLENCE IN DIGITAL CONSTRUCTION
EXCELLENCE IN DESIGN ENGINEERING
EXCELLENCE IN ASSET MANAGEMENT
MOST PROMISING START-UP
About GEOBIM Conference
The GEOBIM conference is a unique platform for the AEC industry, policy makers, and infrastructure agencies to deliberate and discuss the value-proposition of using integrated geospatial and BIM (GEO- BIM) solutions across all kinds of infrastructures – building (institutional, commercial, and residential), industrial, transport and subsurface infrastructure. With the theme, Construction 4.0: Harnessing GEOBIM Readiness with 4IR Advancements, the two-day conference will touch upon the readiness of AEC firms in utilization and application of new-age digital tools in the construction lifecycle.
The programme for GEOBIM 2020 is carefully curated to ensure attendees gain in-depth insights on the most trending technologies, applications and topics in digital engineering and construction. The sessions will cover a wide range of different topics cutting across both technology, sectors, and thought leadership, such as:
Technology Themes
Digital Twins
Reality Capture Solutions
Design for Manufacturing and Assembly (DfMA)
4IR technologies and Immersive Solutions
Sectoral Themes
Surface Transport Systems: Road and Rail
Buildings and Campuses
Subsurface Utility Networks
Digital Cities
Thought Leadership
GEOBIM Maturity Model
GEOBIM Readiness Index
Lean Construction
…and many more such themes!
The GEOBIM conference, produced by Geospatial Media and Communications, brings AEC thought leaders, technology influencers, end-users and the construction ecosystem together on a proven global platform. With over 200 organizations, 80+ speakers and international delegates, the conference has steadily brought value to all participants.
Registration is open
AEC practitioners are invited to be a part of this exciting knowledge exchange and technology transfer for their industry. They can register online to attend the conference for either single day (€59) or for both the days at €89. The registration fee includes a digital certificate of participation and post-conference access to the conference content.