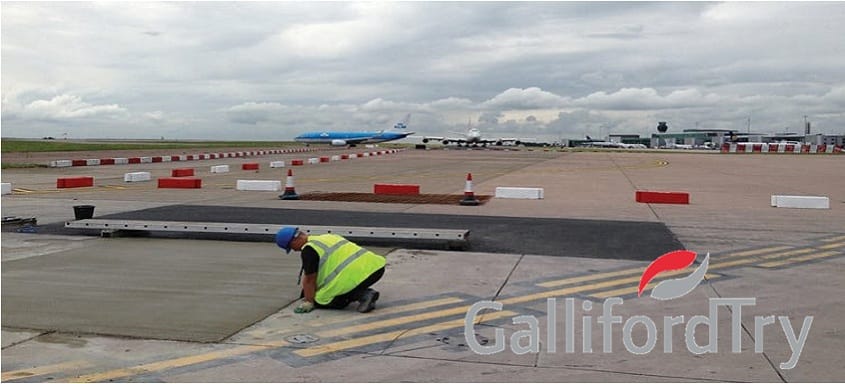 Galliford Try has been awarded a £38 million contract from the Manchester Airports Group (MAG) for works within the £1bn Manchester Airport Transformation Project aimed at boosting the airport's capacity.
The contract centres around the extension of the airfield's west apron and includes construction of new taxiways and aircraft stands around piers and terminal buildings along with associated stand reconfigurations, ground lighting, drainage, communications networks, security fencing and aircraft control systems.
Work will involve the excavation of 65,000 cubic metres of cut material, laying of 95,000 square metres of pavement quality concrete and similar quantity of stone as well as installation of 6km of ducting and cabling, over 500 airfield lights and new fire and aviation fuel mains. 
Colin Abbott, Galliford Try Aviation Director, said: "A challenge of the scheme is that it needs to be undertaken while the airfield remains in operation. We have considerable experience of this type of work and will complete it efficiently and to a high standard without disrupting the safe running of our client's day to day activities."
Work starts immediately and completion is due by November next year.
The 10-year, £1 billion Transformation Project will double the size of Terminal 2, create more than 1,500 jobs in the construction phase and deliver a major boost to the UK's growth prospects and international competitiveness.
Galliford Try has won a £5m contract to build a new 4,050-space car park at Stansted, also part of MAG.