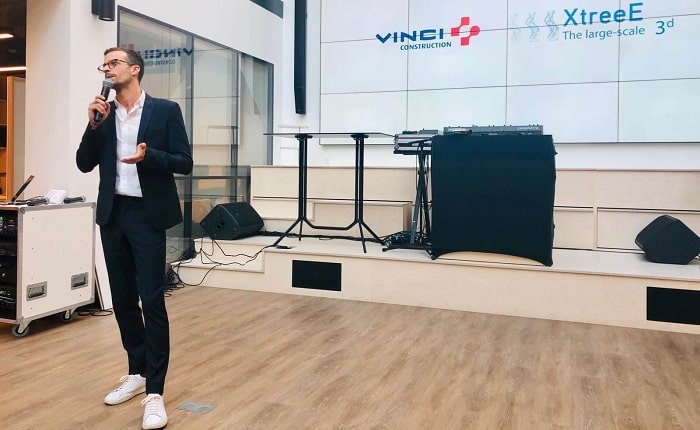 Since they were first developed in the early 2000s, 3D printers and the technique of additive printing have been rapidly taken up by manufacturers of automotive components, jewellery and medical prostheses. The technique works with many different types of material, from plastics to wax, metal and plaster. The ability to quickly produce small runs of products in innovative shapes is also injecting new inspiration into the construction industry, despite the fact that it must nevertheless overcome an additional challenge that relates directly to its preferred construction material… concrete.
Extruded through the print head of a 3D printing robot, the concrete is deposited progressively in a series of successive layers, entirely removing any need for formwork or moulds. The printed layer must consolidate quickly enough to prevent it collapsing during the printing process, and yet remain fresh enough for each successive layer to adhere to the previous one.
VINCI Construction and its partners are at the cutting edge of 3D concrete printing R&D
As early as 2017, VINCI Construction acquired an equity stake in the startup XtreeE, which has developed this technology to a point where it delivers an unrivalled quality of finish. A custom-made stormwater overflow in Lille and a 4-metre high pole supporting a courtyard canopy at a secondary school in Aix-en-Provence were the first flagship applications of this young French company.
Another startup, this time an intrapreneurial venture, has based its showroom and production facilities in Dubai (United Arab Emirates). Concreative was created within Freyssinet and is working closely with with XtreeE to respond to an unprecedented challenge issued by Mohammed bin Rashid Al Maktoum, Emir of Dubai: to 3D concrete print 25% of the country's buildings by 2030. A joint venture between Freyssinet Golfe and local industry stakeholders has just opened a fully automated 700 m² production plant to manufacture construction components.
VINCI Construction and XtreeE launched their 3DCP Challenge to raise awareness among engineering, architecture and design students of the promising future of 3D concrete printing. The winners were the Franco-Canadian team of Victor de Bono and Aurélien Catros, whose design Archelon is a biomimetic structure inspired by a 60-metre long, 8-metre high turtle shell to cover the tracks and platforms of an overground metro station. The winners now have the opportunity to be inspired by a period of working with Concreative in Dubai. The other finalists will continue to be supported and challenged by VINCI Construction and its subsidiaries.
Using 3D concrete printing to build in a more resource-efficient world
In the three years from 2011 to 2013, China consumed as much cement as the USA did during the entire 20th century, according to figures from the Bill & Melinda Gates Foundation (Gatesnotes, USGS). And worldwide, demand is soaring exponentially: OECD forecasts suggest that Africa is likely to build 90 billion square metres of new floor space by 2060, and China 230 billion. The use of concrete is also resulting in a worrying shortage of sand.
Minimising the use of construction materials, and therefore raw materials, building without the use of lost formwork, avoiding the need for transport by printing components as close as possible to construction sites (or even on site), cutting worksite noise pollution and reducing health and safety risks: 3D concrete printing could achieve all these aims, at the same time as contributing to the research and development effort to develop more sustainable technologies.
The modular forms that can be created using digital technology and the additive printing process provide encouragement to reconsider the very design of our buildings. A new-generation wall could incorporate insulation into a honeycomb structure to minimise the use of both cement and insulation. Similarly, it opens up new possibilities in the design phase, such as the use of topological optimisation algorithms to improve the mechanical performance of tomorrow's structures.
Nevertheless, the technique is not suitable for every application: "For the time being, this remains a niche market", explains Chloé Clair, Innovation and Engineering Director at VINCI Construction. "Identifying applications for 3D concrete printing requires explicit and complex use cases".
An innovation yet to be standardised and certified
Although 3D concrete printing is a promising technique in many ways, its practical application is hampered by mechanical characteristics that have yet to be precisely determined. VINCI Construction is working with CSTB (the French Scientific and Technical Centre for Building) and CERIB (the French Centre for Concrete Industry Studies & Research) to assess its performance on the basis of ongoing experiments, and to work towards standard compliance of the process and the construction components it produces.
A 12-metre high telecommunications mast produced using the modularity of 3D concrete printing and the well-established technical characteristics of prestressed concrete structures will soon be installed by Freyssinet on the island of Guadeloupe. This manufacturing process was chosen because of the seismic resistance of the resulting complex structure, and the unusually aesthetic integration of the structure into its environment.