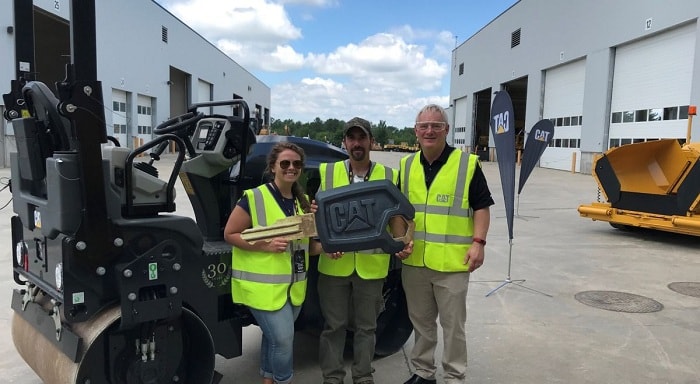 Caterpillar Inc. recently celebrated 30 years of small vibratory roller manufacturing and surpassed the 30,000th roller production mark. To commemorate the milestone achievement, Caterpillar held a sweepstakes in the United States to give away a special-edition Cat CB24B roller. Thousands of contractors entered the Feelin' Lucky sweepstakes held from February 4 through April 15, 2019.
Produced in Caterpillar's Minerbio, Italy factory, the commemorative CB24B tandem vibratory roller features an exclusive charcoal gray paint scheme with the 30th Anniversary sticker and a chrome Cat badge on the hood. The 3.0-ton (2.7-tonne) Cat CB24B compactor boasts three vibrating frequencies to meet the job at hand. With its 47-in (1200-mm) compaction width, this utility roller can be used for small paving jobs, large project finish rolling and landscape applications. Intuitive controls with multifunction control panel and easy viewing LCD display make this roller perfect for the rental market.
Athol, Mass.-based excavation and paving contractor, A.F. Mallet Excavating, won the Feelin' Lucky special-edition CB24B vibratory roller. Andrew Mallet founded the northcentral Massachusetts excavation contracting business in 2007 and included asphalt paving services to complete all phases of the project. With the company's main team members offering more than 75 years of experience, A. F. Mallet completes a range of residential, commercial and municipal projects.
"To be honest, I couldn't really believe it at first. Once I received the verification email, I realized it was legit and was extremely excited. I printed a picture of the roller and hung it on our refrigerator at home," says Andrew Mallet, owner of A.F. Mallet. "We feel incredibly lucky and grateful that we won this piece of equipment. We look forward to putting it to work!"
Representatives from A.F. Mallet received the 30th Anniversary roller during a ceremony held on June 26, 2019, at Milton Cat's Londonderry, New Hampshire branch. On hand for A.F. Mallet's receipt of the CB24B compactor were Andrew Mallet, owner of A.F. Mallet, and D. Scott Phipps, Paving Industry Sales Manager – North America, Cat Paving.