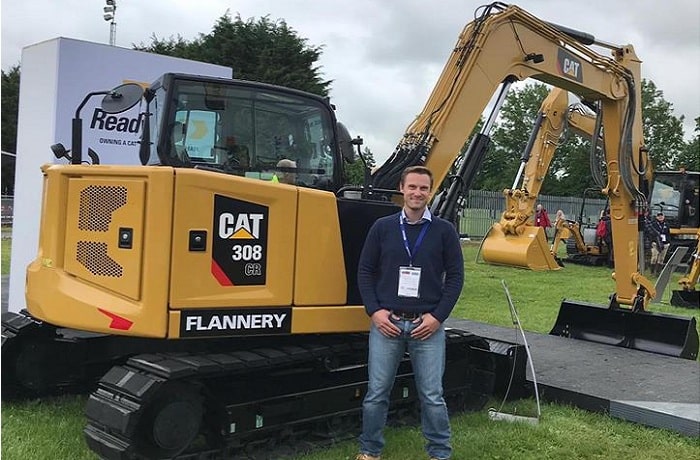 Flannery Plant Hire , one of the largest providers of operated and self-drive plant in the UK, has signed an exclusive deal with Finning UK & Ireland at this year's Plantworx exhibition to purchase 230 new Cat® machines as part of its fleet refurbishment programme.
Signed by Patrick Flannery Senior, the deal is the biggest single order for Finning in 2019 and will bring the average age of the Flannery fleet to an impressive 1.8 years.
The company's investment totals over £30 million and sees Flannery take delivery of the UK's first Cat D6XE next-generation dozer; Caterpillar's ground-breaking new high-drive, electric drive transmission machine. The deal includes units from the Next Gen Hex range of excavators, including Cat 308 minis, Cat 315 and Cat 325 excavators with zero tail swing. The line up also includes the new Cat 730 articulated dump trucks fitted with the Caterpillar Production Measurement (CPM) system alongside a broad range of other Caterpillar machines.
This new investment, part of the hirer's £46 million CAPEX spend for 2019, is the latest in a long partnership between Flannery and Finning as Patrick Flannery Senior explains:
"We've been using Caterpillar technology since I established the business in 1972, partnering with Finning to ensure we maintain a young and modern fleet of machines. As a leading provider of equipment to many major contractors working on large infrastructure projects in the UK, it is vital that we can offer equipment that can meet the rigours of a high-performing site.
"As well as the fuel efficiency, reliability and lower cost of maintenance that is inherent to models in the Caterpillar portfolio, we are finding that our customers are looking for new and improved ways to monitor and report on productivity on site. The connected technology features that Finning has been able to offer as part of this deal, including the latest CPM system, will be a key part of our product offer moving forwards, helping our customers to retain a competitive edge on site.
"Of course, our primary focus is always safety and as we would expect, these new Cat machines deliver many innovative safety features. We also ensure that, where relevant, 360-vision cameras, load control systems and automatic quick couplers are factory fitted as part of our market-leading plant specification. In such a competitive market, it is important for us to demonstrate our continued investment; not just in the latest technology but also in driving the safest site environment possible."
New Cat D6 XE
A world-first for the dozer market, the new Cat D6 XE is fitted with a high-drive, electric drive transmission that increases fuel efficiency by up to 35 per cent while providing improved productivity, thanks to more effective power transfer to the ground. As early investors in hybrid excavator, the purchase of the D6 XE demonstrates the hirer's continue commitment to green construction.
With the D6 XE VPAT having its own dedicated chassis, the machine offers versatility in track choice to create a lighter and more balanced machine, further enhancing manoeuvrability. The redesign also delivers lower ground pressure than previous models and an increase to the range of motion to the blade. Fewer scheduled maintenance tasks and longer service intervals, with up to 90 per cent fewer moving parts than traditional models, will also help Flannery to lower cost of ownership.
Cat 308 Next Gen Hex Mini Excavator
The eight-tonne Cat 308s purchased are part of the new Cat mini hydraulic excavator line-up. The entire range is designed to provide enhanced performance, versatility and safety.
Investing in equipment which prioritises operator comfort is a key focus for Flannery, helping the company to maintain its position as the first choice for operators and to retain the industry's leading talent. The design of the Cat Next Generation mini excavators places convenience and operator safety at the heart of the machine. For example, the new stick steer system, which allows the operator to switch (with the touch of a button) from conventional lever/foot-pedal steering controls to left-hand joystick control helps to reduce effort while improving operator control.
Cat 315 FL and 325 FL with zero tail swing
Flannery has also purchased the latest Cat excavators from Finning in the 15 and 25 tonne range. A key selling feature is the machine's zero tail swing which allows operators to work confidently in space-restricted areas – ideal for fleet operating on highway infrastructure projects in particular. Front swing radius can be reduced to avoid overhead power lines and lift capacity increased with the boom positioned towards the centre of the machine.
Cat 730 articulated dump trucks
Flannery has already taken delivery of 11 Cat 730 articulated dump trucks, part of Caterpillar's new range. The new machines feature a larger cab with reduced noise levels and a combined transmission and hoist level, which reduce operator actions by up to 50 per cent. Each truck is also fitted with the Cat CPM system, which communicates via Product Link units fitted to each machine, providing real time data to help manage site productivity, including key metrics such as fuel burn, cycle time and material movements.
For more information on Cat products or services from Finning, please visit www.finning.com