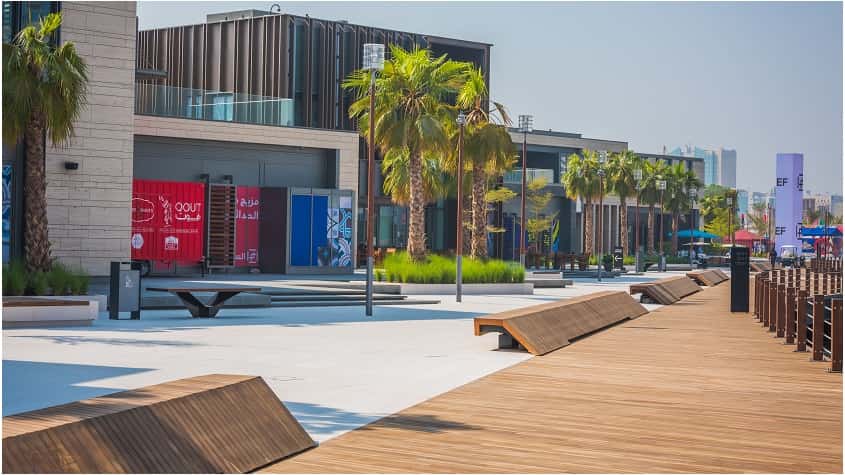 Meraas has announced that the first phase of Al Seef is now open to the public along Dubai Creek. The 1.8km long destination aims to tell Dubai's story through architecture and unique experiences, enabling visitors to rediscover the heart of the city along its much-loved creek.
Al Seef was designed to bring to life the traditional Emirati culture that underpins Dubai's iconic heritage. A visit to the destination, located adjacent to Al Fahidi historical district, will inspire both residents and tourists with its authentic design aesthetic and ambience, paying homage to the age-old traditions of the UAE. The heritage area at Al Seef is patterned after old architecture in Dubai, while the sophisticated contemporary area contains sleek architectural spaces that blend seamlessly. Bridging the gap between the old and new, Al Seef will bring to life elements of old Dubai by recreating experiences rooted in local culture and heritage, while revitalising the tourism experience around one of the UAE's most popular locations.
The shopping, dining, entertainment and tourism destination covers a total built up area of 2.5 million square feet and houses close to 500 shopping and dining concepts, offering global cuisine overlooking the creek. The second phase of the destination, scheduled for delivery at the end of the first quarter of next year, will comprise of an authentic souq, similar to those that were common in Dubai in the 1950s, with a traditional vibe and delightful retail and dining experiences of its own.
With a selection of floating restaurants, a marina for private yachts, floating market and links to the Dubai water taxi network, Al Seef also celebrates Dubai's rich maritime heritage and the role that the creek has played in the city's transformation. These features add to the charming atmosphere at Al Seef and resonate throughout the many alleyways and walkways that are packed with captivating shops, cafés, restaurants, and an events plaza where a variety of exciting activities will bring this area of the creek to life.
His Excellency Abdulla Al Habbai, Group Chairman of Meraas, said: "Dubai Creek holds a special place in the history of Dubai. Its peaceful shores have welcomed travellers and tradesman since ancient times, and the development of Al Seef reflects a commitment at Meraas, to revitalise an area known for its vibrancy, in line with the directives of His Highness Sheikh Mohammed bin Rashid Al Maktoum, Vice President and Prime Minister of UAE and Ruler of Dubai. By combining traditional and modern design elements, the destination highlights the role the creek has played, and continues to play, in the evolution of Dubai, and reinforces the city's position as a leading international tourism destination by enriching the experience for visitors and creating new economic opportunities for local businesses."
The destination has three hotels with a combined 550 rooms, each with its own unique appeal. The 200-key heritage hotel offers an authentic Arabian hospitality experience that reflects life as it once was for those who lived on the shores of the creek, with rooms located in intimate surroundings above restaurants and shops in the heritage area. Guests can relive these past moments and enjoy the vibe Al Seef emanates. The contemporary area will have two hotels embodying its modern and trendy surroundings, with 200 and 150 keys each, allowing guests to experience Dubai's past, while staying in an environment that represents the city's modern lifestyle.
Residents and tourists will also be able to explore an open-air market of hand-crafted artefacts, textiles, accessories and many more small treasures. The destination will also host an array of fun-filled activities for the families to enjoy.
Al Seef is fully pedestrianised and benefits from a multimodal transport system that links to key locations across the city. Dubai International Airport and Downtown Dubai are both a short drive for those arriving by car, with valet parking and plenty of underground parking spaces available upon arrival. Two metro stations are located close by, with regular shuttle busses operating between key hotels within Dubai and other connections to the RTA public transport network operating between several prominent hotels. The creek offers access to Al Seef with yacht moorings; water taxis and abras that service the destination.
In addition to appealing to residents, Al Seef is set to reimagine the experience for business and leisure travellers around Dubai Creek, with its close proximity to Dubai International Airport making it accessible for transit, short and long-term visitors, as well as Dubai residents.
About Meraas
Meraas is dedicated to making Dubai and the UAE better for people to live, work and play in. We design for a diverse mix of people to stimulate a creative urban culture where the next generation of ideas, businesses and communities can take root. Our investments ensure a better future for generations to come and spread across different sectors including food, retail, leisure, hospitality, health and education. Our destinations which to date include – City Walk, The Beach, Boxpark, Last Exit, The Outlet Village, Kite Beach, Al Seef, La Mer and Bluewaters– are open places for communities to socialise, explore, learn, play, create and innovate.
For more information, please contact:
Mathilda Saad
Head – PR & Communications
Email: mathilda.saad@meraas.ae