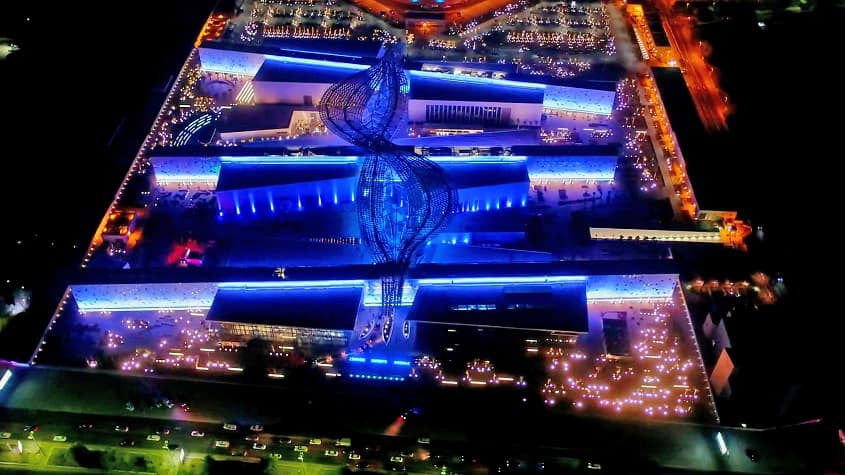 His Highness Sheikh Sabah Al Ahmad Al Jaber Al Sabah, the Emir of Kuwait, and representatives of the Amiri Diwan, were treated to a private inauguration of the country's latest cultural showcase, the Sheikh Abdullah Al Salem Cultural Centre (ASCC), on 5 February.
The complex was recently named Public Building of the Year at the prestigious ABB LEAF Awards 2017.
The award-winning ASCC development will createa new world-class museum district within Kuwait City.Together with theSheikh Jaber Al Ahmad Cultural Centre(JACC),it will form Kuwait's new national cultural district.
ASCC is not only a celebration of the scientific andcultural achievements of mankind,but also of Kuwaiti, Islamic and Arab culture and history, and the scale, shapes andshades of thecentre's buildings are designed to convey a sense ofwonder and awe.
His Highness Sheikh Sabah experienced an opening performance showcasing the complex's six main buildings: A Natural History Museum; Science Museum; Museum of Islamic History; Space Museum; Fine Arts Centre; and a Theatre.Each building will contain an array of permanent andtemporary world-class exhibits and artworks.
"The Sheikh Abdullah Al Salem Cultural Centre is a fitting and spectacular addition to Kuwait's cultural heritage, and sets out to embrace the rich diversity of the world's finest achievements," said George Abi-Hanna, Managing Director of SSH Kuwait. "As the largest museums project of its kind in the world, SSH is proud and honoured to have been involved helping His Highness Sheikh Sabah Al Ahmad Al Jaber Al Sabah and the Amiri Diwan to fulfil their cultural aspirations for Kuwait and the region."
Kuwaiti architecture is represented by the main 'street',which meanders echoing the traditional 'Ferej'. This createsexciting spaces, Islamic patterns, corners and walkways,mirroring the experience of walking down a traditional, busyKuwaiti street.
The Emir's visit celebrates the completion of the cultural development. ASCC is expected to be opened to the public soon.
SSH was appointed by Al Ghanim International as lead architecture and engineering designer on the complex. Working collaboratively with world-leading museum specialists, SSH was able to deliver the ASCC project for the Amiri Diwan to the stringent standards required of world-class public cultural buildings.  
ABOUT SSH
SSH is one of the leading master planning, infrastructure, building design and construction supervision firms in the Middle East, with a reputation for design integrity and a portfolio that includes landmark projects throughout the region. The firm maintains offices in Abu Dhabi, Algeria, Bahrain, Dubai, Iraq, Kuwait, London, Oman, Qatar, Saudi Arabia and South Africa.
Founded in 1961, we employ approximately 1,500 high-calibre local, regional and international experts in their individual fields, most of whom are from globally renowned international consultancy firms. We ranked 3rd architecture company in the Middle East among the top 100 Architects in the world and number 1 design firm in the cultural sector in the world by World Architecture Magazine in 2015 and 2016.
We were also ranked in 95th place among ENR's Top 225 International Design Firms for 2017.
SSH's multifaceted practices include architecture, urban design and planning, landscape architecture, structural and civil engineering, MEP/building services, interior design, highway and bridge engineering, stormwater drainage, utility design, sanitary engineering, marine engineering and district cooling, in addition to high-profile project management and construction supervision services.