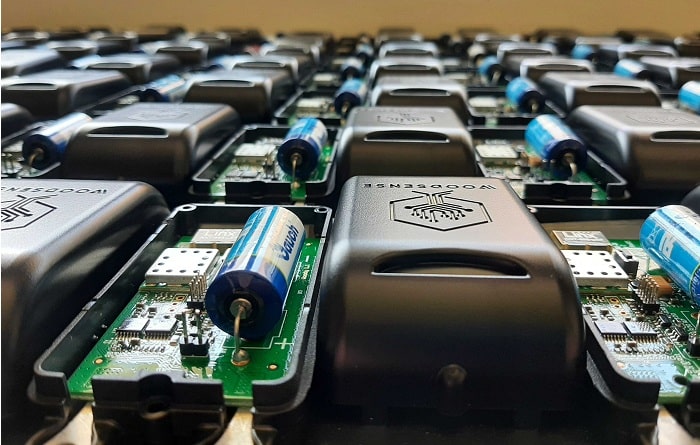 Woodsense is experiencing increasing intertest from Scandinavian countries, including Norway, who has a long history of building in timber.
To strengthen its efforts in the Nordic markets, Woodsense has now established an independent Norwegian sales department:
–  We are experiencing great interest from both Swedish and Norwegian construction companies who already possess in-depth expertise with building in timber. For that reason, in addition to consolidating Woodsense on the Danish market, we will scale further in the Nordic markets in 2022, including Norway, where we have recently established a sales department, explains Jeppe Rasmussen, CEO and founder of Woodsense.
Woodsense realizing international ambitions happens in the wake of the company's recent investment round, which raised DKK 2.6 million from investor from, among others, member of Danish Keystones and DanBAN as well as Norwegian Vater AS:
–  We need to further accelerate the use of technology in the construction phase to reduce unnecessary improvements in the future. Here, it is an advantage to use sensors to help us pinpoint faults and deficiencies as early as possible, when they are still relatively reasonable to rectify. In the bigger picture, this will help reduce the CO2 footprint, and the customer can be sure of a good indoor climate, explains Jens Biermann Knudsen, General Manager at Vater, and continues:
–  At Vater, we have great confidence in the founders and the team at Woodsense, and we believe that they will become a significant actor, first in the Nordic region and later in Europe. This is due to their user-friendly technology and low practicality of installation, as well as our expectation of an increasing focus on the use of prefabricated timber in the industry. The sensor can be mounted on the element at factory-level, so you have full control of the moisture content from cradle to grave.
Norway focus of Scandinavian expansion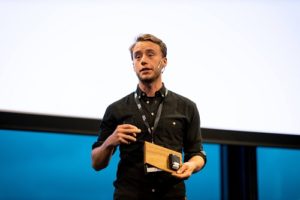 It is no coincidence that the choice has fallen on Norway as the first country of the Scandinavian expansion. Norway has a long tradition of building in timber, and is one of several neighboring countries that shows that timber construction can be done on a large scale.
At the front of the Norwegian sales department is Kim Kunde Olsen, who sees great potential for the Danish sensor in Norway, due to an increasing focus on the green transition in the Norwegian construction industry:
–  The sensor is a product that makes sense in Norway. In the last 10 years, we have experienced an enormous focus on the health of buildings, and various requirements have been introduced for the condition report from January of 2022. This places some demands on the construction, and I think it is important to think about the circular economy in our approach to timber construction, explains Kim Lunde Olsen, Head of Sales at Woodsense Norway, and continues:
–  We are used to dealing with moisture damages when they have already occurred. The sensor changes the way we handle timber construction through preventive measures of damage detection as part of the construction's quality assurance. That way, we can be on top of damages, and deal with them before they occur.
Ambitious Norwegian timber construction on large scale
That there was a potential for the intelligent moisture sensor in Norway became evident when Woodsense were involved in the large Norwegian construction project Sophie Radich in Lillestrøm in the autumn of 2021.
Behind the ambitious school building, of which the majority is constructed using CLT elements, is the leading Norwegian project developer and contractor Kruse Smith Entrepreneur.
Kruse Smith chose to involve the Danish moisture sensor to be at the forefront of moisture damage and gain both knowledge and experience for future construction projects. The wireless sensors has been well-received by the people on the Sophie Radich-project, explains Jeppe Rasmussen, CEO and founder of Woodsense:
–  The developer states they experience a better control of moisture in the construction, and that they can recognize the value in using the sensors as part of their quality assurance. It is uplifting to experience the potential for the sensors in our neighboring countries – also for large-scale timber constructions. This has given us a starting point for the forthcoming Nordic expansion.
The Norwegian sales department opened in april, and the ambition is to expand to Sweden in the near future.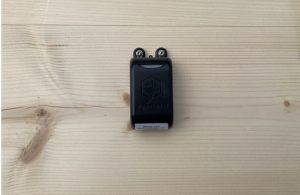 References:
– Woodsense has raised an investment of 2,6 million (DKK) in March 2022, from, among others, investors from Keystones, DanBAN and Vater.
– Jeppe Rasmussen founded Woodsense, then called BeRessourceful, in 2019. Today, Woodsense consists of 9 employees.
– In 2021, Woodsense received a documentation report from Rambøll, describing the ways in which their intelligent IoT sensor solution can assist construction projects in achieving the internationally recognized sustainable certification DGNB.
– Approx. 40 pct. of Denmark's total energy consumption comes from buildings. The atmosphere saves 2 tonnes of CO2 for every 1m3 of timber used instead of the corresponding amount of concrete or steel.
– How the Woodsense sensor works: The sensor measures wood moisture, temperature and humidity, and compares the measurements with local weather data. The collected data is analyzed, whereby the digital platform can detect and alert about leaks and conditions that can lead to moisture damage. Thus, the sensor prevents moisture damage and reduces resource waste.
– Woodsense has launched a demo version of their digital platform, which can be tested with artificial data even without a sensor.
– More information: www.en.woodsense.dk