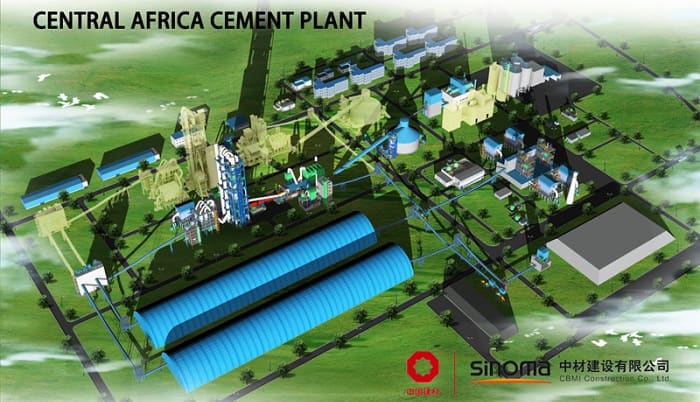 CBMI Construction Co., Ltd. and Central African Cement Company Limited (hereinafter referred to as "CAC") signed "EPC Contract of CAC 5000TPD Clinkerisation Production Line and 7.5MW WHR Power Generation Plant, 2MTPA Cement Grinding Units and 2×25MW Thermal Power Plant" and "Financing Agreement" in the capital city of Zambia, Lusaka. Mr. Willie Sweta, CAC Board Chairman and Mr. Tong Laigou, CBMI Executive Director signed the contract on behalf of respective parties.
CAC project, located in Ndola, Copperbelt, Zambia, is invested by CAC and will be built and constructed by CBMI in the mode of general contracting. The total value of EPC contracts amounts to 480 million US dollars. The scope of contracts includes one 5000TPD clinker production line from limestone crushing to packing & delivery and 7.5MW WHR power plant, 2 MTPA cement grinding units and 2×25MW captive power plant, covering engineering & design, civil construction, equipment supply, erection, commissioning, training and production operation as well as construction of auxiliary facilities, etc.
CAC project is the third large capacity cement EPC project contracted by CBMI in Zambia market following Lafarge CHILANGGA 2500TPD cement project and CBMI 2500TPD cement project in Zambia industrial zone. The successful contract signing indicates a good and sound brand image and market recognition of CMBI in international market, which will offer a good opportunity and platform for CMBI to promote localization operation in further depth. Meanwhile, the project is the first case for CBMI to implement EPC project financed by export and supplier's credit, which has a huge strategic significance for Sinoma to further expand and elevate the main business of EPC "1+N" international contracting.
CAC, ZCCM-IH and local society and government all have a great expectation on CAC project, which, upon completed, will become a modern cement plant with biggest capacity in Zambia and even neighboring nations and most complete auxiliary facilities, that will have great positive significance to promote growth of building materials industry and technological advancement, improve status quo of power deficiency, increase employment and boost economic development in Zambia. Zambian mainstream media has made a comprehensive coverage on the successful contract signing and given a high compliment.