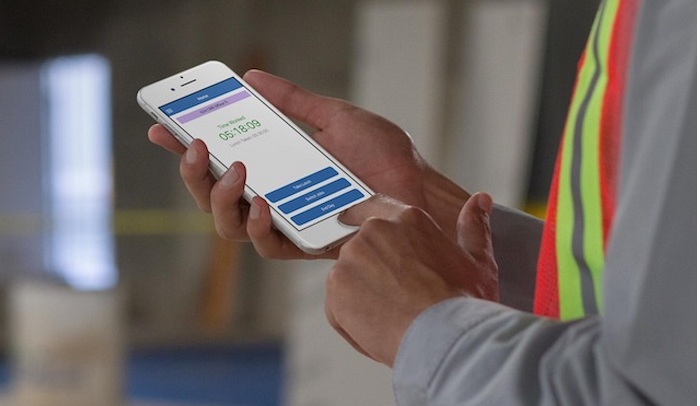 BuildCenter announces its digital time-tracking tool that accommodates the specific needs of the construction industry. The Digital Time Card joins a growing platform of apps from BuildCenter that streamline construction-related tasks. Designed for Apple or Android phones and tablets, the Digital Time Card yields a clean and accurate timecard, eliminates burdensome paperwork and reduces labor law mistakes. It is accessible in English and Spanish.
"The Digital Time Card is revolutionary because it combines the best of the time clock with the traditional honor system and integrates guardrails into an easy step-by-step process," says Shaun Olson, co-founder of BuildCenter and COBE Construction. "It's one example of how we use our experience as contractors to build products that purposely serve the industry, whether it's ditching time-consuming paperwork or automating manual tasks."
The Digital Time Card:
Improves accuracy
Time-tracking in the construction industry is often time-consuming and chaotic due to incomplete or inaccurate timecards that must go through a myriad of steps to be rectified. Payroll in the wrong amount may be issued. Breaks, overtime hours and other issues require review and approval. The app alleviates these problems. It also includes a GPS stamp that tracks when employees leave or change job sites.
Boosts accountability
The Digital Time Card saves the office countless hours of work by automatically assuming a full day of work based on clock-in and out times. If employees go past a standard work day, a screen prompts them to enter reasons for the overtime and who approved it. This feature takes the burden off the office to track down the information and makes the worker more accountable. Both the worker and the office can edit before final approval.
Avoids labor law mistakes
In addition to documenting overtime hours, the system requires employees to clock in and out for breaks required under labor laws and for worker compensation audits. This simple process makes the time card compliant with many laws and audit requirements.
Streamlines payroll
Running payroll each week takes less time and effort with a Digital Time Card. The integrated CSI codes enable companies to break down the time on each task per project, accurately identify job costs and measure profitability against their projections. Reports can be curated quickly and printed or exported to a pdf document for entry into an existing payroll system.
The Digital Time Card joins Build Center's Crew Scheduling Tool, a virtual project board for planning and assigning labor; and a Health Screening Tool for identifying COVID-19 on job sites and implementing contact tracing. The BuildCenter app is available on the App Store or Google Play. For more information, visit www.BuildCenter.com.
About BuildCenter
BuildCenter is obsessed with streamlining construction businesses. BuildCenter is a spinoff of a thriving Silicon Valley-based construction company. For 15+ years, it has developed innovative software and phone-based apps for all aspects of a construction business. BuildCenter is leading the charge for construction companies that want to elevate their business.