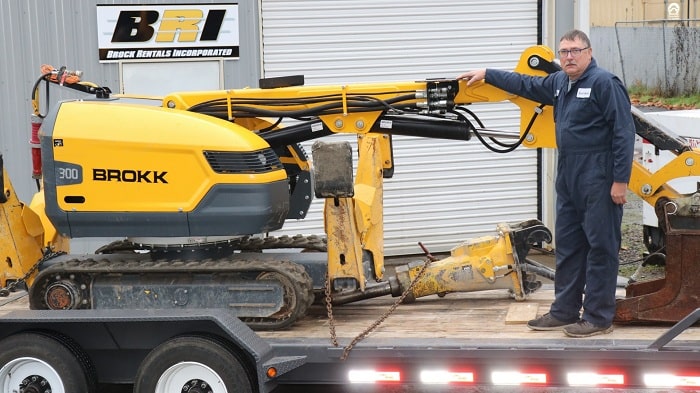 Brokk has finalized a deal with Brock Rentals Inc. to upgrade the rental companys fleet of remote-controlled demolition units with 12 next-generation models, including Brokk 110s, 170s, 200s and 300s.
With the new models, Brock Rentals fleet now features more than 50 Brokk remote-controlled machines – from the compact Brokk 60 to the heavy-duty Brokk 400.
SmartConcept technology on these machines provides a number of safety and efficiency benefits. The intelligent electrical system, SmartPower, protects the machine from the damage that can be caused by poor power supplies while optimizing power and hydraulic performance in extreme temperatures. SmartDesign extends machine life and provides unprecedented ease of maintenance due to 70 percent fewer cables as well as hardened components, LED headlights and easily accessible grease points and hydraulic hoses. An ergonomic remote-control box, the SmartRemote, incorporates adjustable straps, intuitive controls and professional-grade radio technology with a 984-foot (300-meter) working range.
"We've always relied on the safety and productivity of Brokk machines to provide viable solutions for our customers in refractory, chemical, nuclear, demolition and general construction industries," said Tomas Lundstrom, president of Brock Rentals. "The next-generation models offer the best power-to-weight ratio on the market – in some cases doubling the power over our current models with only a slight increase in weight and dimension – opening up new opportunities and applications for our clients. In addition, they are more dependable and easier to service, making them ideal for the rental industry where machines seldom come back to the shop without some signs of use."