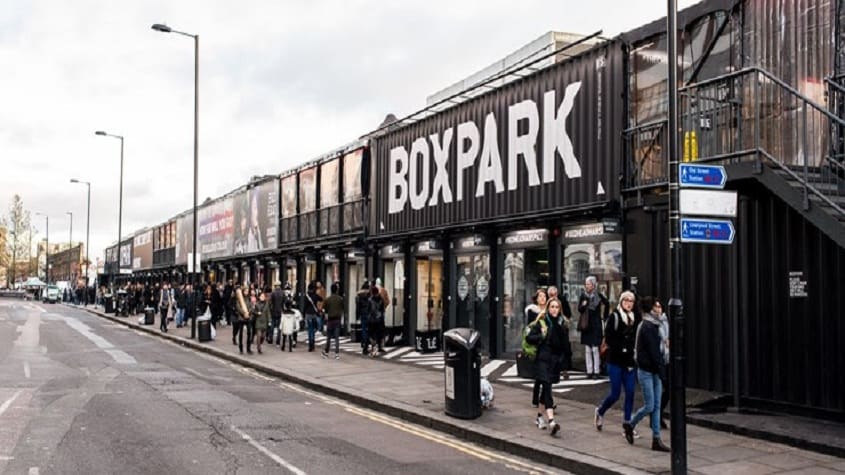 Boxpark and Quintain have secured planning permission from the London Borough of Brent for Boxpark Wembley, London's biggest Boxpark, in Wembley Park.
Boxpark is a food and retail park made out of refitted shipping containers. A 10-year joint venture between Quintain and Boxpark, Boxpark Wembley will bring forward a new casual dining and event destination, located on Olympic Way.
Boxpark Wembley will accommodate 27 food and beverage operators, a 20,000ft2 dedicated events space and 300-capacity venue.It has been designed to cater to the visitors who come to the area every year for sport, music and shopping, as well as the growing community in Wembley Park.
More than 7,000 new homes, 500,000ft2 of retail and leisure and 630,000ft2 of Grade A office space will be delivered.Around 20,000 people are expected to reside in Wembley Park by 2027.
The events space will create and host diverse cultural events for up to 2,000 people. Boxpark will work with emerging local artistes and established talent from across the capital to further enhance Wembley Park's reputation as a vibrant, connected and emerging neighbourhood.
Unit sizes will range from 500ft2 to 1,800ft2. Boxpark Wembley is set to open in late 2018. Quintain COO James Saunders said: "We're thrilled to be able to say that Boxpark is now officially coming to Wembley Park.
"The opening will mark as huge step change in the transformation for the area, adding to the growing offer of shops, homes and activity already here."Set to open later this year, Boxpark Wembley will be a new destination for local people and the growing number of visitors to the area, to experience some of the best street food London has to offer. Boxpark is officially coming home, and we couldn't be more excited."
Boxpark founder and CEO Roger Wade said: "I'm delighted that the Boxpark Wembley planning has been approved."We are looking forward to working closely with our development partner Quintain, Brent Council and Wembley Park stakeholders Wembley Stadium, SSE Arena and LDO to deliver a world-class fan village and street food destination."
BDP chairman Gavin Elliott said: "We're really thrilled and excited that Boxpark Wembley has been granted planning consent."The scheme is a big step forward in terms of the design thinking, while still maintaining the core attributes of being a great place to eat, drink and play."