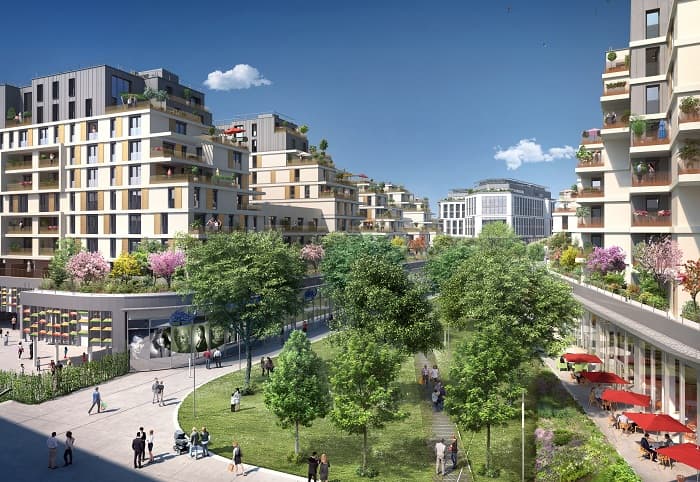 Altarea Cogedim has awarded a contract for the construction of the new Issy Cœur de Villeeco-neighbourhood under development in Issy-les-Moulineaux, near Paris, to Bouygues Bâtiment Ile-de-France and Bouygues Energies & Services, two subsidiaries of Bouygues Construction. The contract is worth €258 million. The project is aiming to reshape urban living by providing inhabitants with a new connected, environmentally responsible lifestyle.
Alain Taravella, CEO and founder of Altarea Cogedim, said: "Our ambition was to develop a genuine urban project that meets the social challenges and reflects the current transitions that the town of Issy-les-Moulineaux and its residents are experiencing. More than a new neighbourhood, what we are creating here is a vibrant and attractive living space, a place where urban and human life is lived."
The new eco-neighbourhood, a connected block located right in the heart of Issy-les-Moulineaux, will be largely landscaped and totally pedestrian. Designed by the architects Valode & Pistre, the mixed-used development will consist of five residential buildings, including a retirement home, three office buildings and a range of civic amenities, including a school complex, a day-care centre and a community hall. 17,000 m² of shop units, restaurants and a 7-screen multiplex cinema will add to the vitality of the neighbourhood. It will be a place where people can live, work and relax.
Fully integrated in Issy-les-Moulineaux's highly committed pro-environment policy, Issy Cœur de Ville will be seeking the Eco-neighbourhood level 1 label as well as NF-Habitat HQE certifications for the housing units and BEPOS, NF HQE Bâtiment Tertiaire and BREEAM labels for the office buildings and shops. The project sets out to re-establish nature in the city, and as such it will also be awarded the BiodiverCity label, acknowledging its efforts in terms of biodiversity, and WELL Community certification, recognising the approach taken to health and well-being.