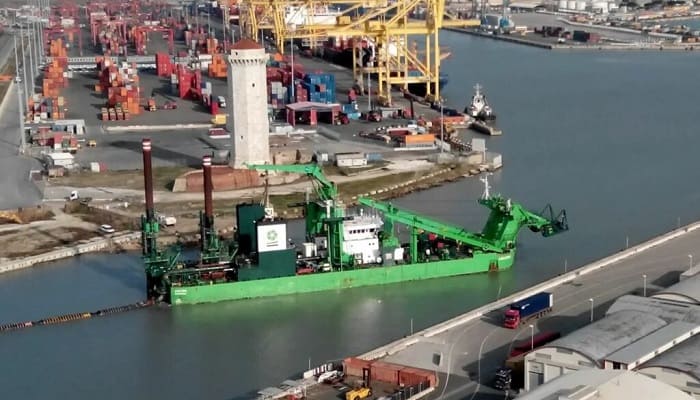 World Construction Today – A €928 million project to build a new breakwater (a sea wall protecting a shoreline) somewhere at the Port of Genoa in Northern Italy has been awarded to a consortium led by Webuild.
The Genoa Breakwater Project will allow the port to accommodate the largest container ships, increasing its competitiveness and being referred to as the biggest update of the port's facilities on the Ligurian coast in 25 years. The offshore structure will be built by Webuild, Fincantieri Infrastructure, Opere Marittime, Foncosit, and Sidra on behalf of the Western Ligurian Sea Port Authority.
Construction of the new breakwater, which would be built about 450 metres beyond the current barrier, will create a large turning basin for container ships up to 400–450 metres in length, which is twice the size of vessels the port can currently accommodate.
The project's Phase A involves the installation of over seven million tonnes of rock at a maximum underwater depth of 50 metres for the breakwater's foundations, which will be constructed of around 100 prefab reinforced concrete caissons.
According to Webuild, each caisson will be up to 67 metres long, 35 metres wide, and 33 metres high, or up to the height of a 10-story skyscraper.
The implementation of concepts of a circular economy, such as the recovery, re-use, and transformation of excavated material, coupled with innovative technology, construction processes, and sustainability characteristics, will strengthen the infrastructure.
The Italian government is co-financing renovations to the Port of Genoa with the goal of strengthening its strategic significance inside the Rhine-Alpine Sector of the Trans-European Transport Network.
The port will also gain from the current construction of a new, high-speed rail connection in the Rhine-Alpine Corridor.
In addition to enhancing logistical connections between Genoa and the European TEN-T network up to Rotterdam, the €6.9 billion Terzo Valico deo Giovi-Genoa Junction train line will connect Liguria to Lombardy.