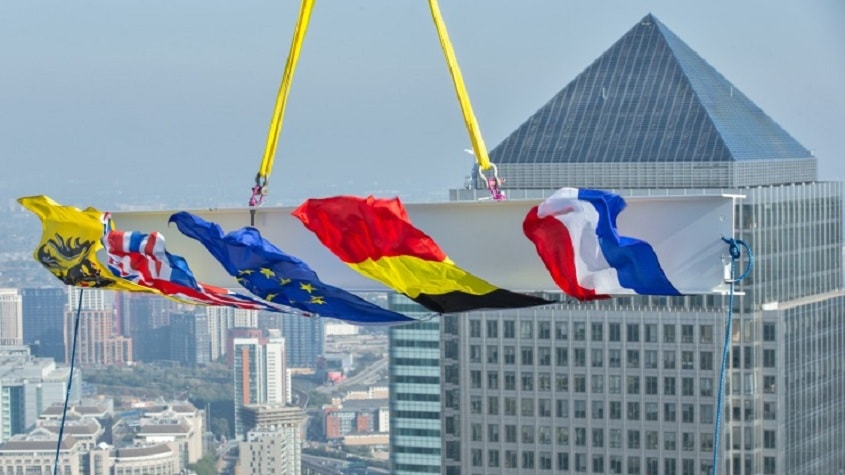 Rising amongst the skyscrapers that shape the Canary Wharf skyline is Newfoundland, a striking diagrid structure which, once complete, will be the UK's tallest build-to-rent development.
Rising amongst the skyscrapers that shape the Canary Wharf skyline is Newfoundland, a striking diagrid structure, which, once complete, will be the UK's tallest build-to-rent development. Recently topping out to reach its full height of 220 metres (729 ft.), the tower, comprising 636 private rented apartments, is shaping up as an iconic figure on the London skyline.
Set to become one of the first build-to-rent schemes available on the Canary Wharf estate, Newfoundland will provide residents with spectacular panoramic views of the capital through floor-to-ceiling windows. Designed by renowned Mayfair-based architects, Horden Cherry Lee, the building's unique appearance stems from its transparent 'diamond' structure, which will have sloped, sculpted sides and an external frame providing exceptionally spacious homes.
NewfoundlandThe apartments, ranging in size from 429 sq. ft. to 1,819 sq. ft provide studio, one, two and three-bedroom accommodation. They will be available fully-furnished through Vertus, a full-service build-to-rent operator, part of the Canary Wharf Group. Residents will have exclusive access to a range of onsite facilities, including a private dining room, residents' lounge, gym, virtual fitness studios, children's play area and terrace garden. Occupying the first floor of the 60-storey building, will be a 10,000 sq. ft. M Restaurant and Grill.
Alastair Mullens, Head of Vertus, commented: "To reach topping out of the building is a significant milestone in the construction process. Set to fully complete at the beginning of 2020, it's fantastic to see the building taking shape and cement its place amongst some of the most iconic buildings in London. Whilst the exterior is visually striking, the interiors will be of the highest quality and set a new standard in the build-to-rent sector. Newfoundland will meet a growing demand for dedicated rental properties in Canary Wharf."
Set to transform the private rental offering in the Canary Wharf area, Newfoundland is joined in the Vertus portfolio by a 327 apartment scheme at 10 George Street, as well as a further 174 apartments at 8 Water Street, both located in Canary Wharf's new residential district, Wood Wharf.
Since construction began in 2015 over 300 piles have been installed, with a number reaching 60 metres deep, some of the deepest ever installed at Canary Wharf. Over 18,000 cubic metres of spoil, the equivalent of 7 Olympic swimming pools, was excavated to create the basement. For Newfoundland to reach its full height, over 14,000 square metres of pre-cast concrete plank and 9,500 tonnes of structural steelwork have been erected.
Set to complete in Q2 2020, apartments at Newfoundland are set to be available to rent from July 2020. For more information, contact Vertus on 020 7418 2000 or visit www.group.canarywharf.com
About Vertus
Vertus is part of Canary Wharf Group. Over the last 30 years the Group has serviced the world's blue-chip corporate and retail tenants whilst undertaking the design, construction and management of the ever-growing Estate.
Canary Wharf Group has built this reputation by providing exceptional service through estate management, building management, public space management and security.
Vertus will manage all aspects of the build-to-rent developments on the Estate. The Vertus portfolio currently consists of three buildings which are under construction, totalling 1,157 build-to-rent residential apartments.
Vertus will manage the residential lettings and management of the buildings and the individual apartments. Vertus will be dedicated to meeting the needs of their customers and residents by providing a superlative service, 24 hours a day and 365 days per year.
About Canary Wharf Group
Canary Wharf Group plc has overseen the largest urban regeneration project ever undertaken in Europe, designing and building more than 16.5m sq ft of London real estate, which now houses local and international companies and renowned retailers.
The Canary Wharf Estate is a major retail destination comprising around 1m sq ft across five shopping malls, including the award-winning leisure development, Crossrail Place, housing one of London's most stunning roof gardens. It also has world-class, year-round arts and events programme offering over 200 diverse and culturally inspiring events performed throughout the Estate. Canary Wharf's new district, Wood Wharf, will provide up to 3,600 new homes, 2.8m sq ft of office space, 380,000 sq ft of retail space and over eight acres of public spaces, squares and parks. There will also be a GP surgery and a two-form primary school for 420 children. Canary Wharf Group is a wholly owned joint venture between Brookfield Property Partners and the Qatar Investment Authority.