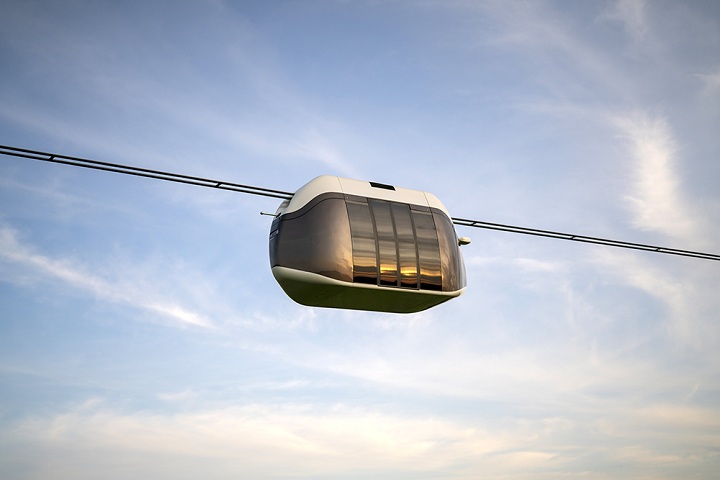 Recently, the World Construction Today published a press release discussing options in the use of overpass-type infrastructural transport complexes being developed by Unitsky String Technologies Inc. (UST Inc.) international company. When we decided to learn more about this technology from the open sources, we noticed that it was sometimes perceived as an advanced cable car. As you will see, apart from a distant visual resemblance and an overhead nature, string transport and cable cars have nothing in common. What are the differences then? Well, let us find out.
Operation Principle and Energy Consumption
If you dig a little deeper, you will immediately notice the difference between these types of transport. Take their operation principle, for example. The cable car consumes a lot of electric power, since the rope and cabins are pulled by an electric motor. During rush hours, at least some kind of payback is still visible, but in the daytime, the operation of a cable car is simply unprofitable: energy costs for ten people will be the same as for a thousand. Another disadvantage of this operation principle is a continuous wear of the supporting cable. It becomes unusable after 6 to 8 years of operation, and requires replacement. The third argument against the cable car is that its length usually does not exceed 10 km.
What is the underlying principle of string transport operation? Electric cars on steel wheels that are controlled by artificial intellect move along string rails using their own engine. Energy recuperation during braking and low aerodynamic resistance of string transport, as well as the use of special steel wheels and rails, can reduce electric power consumption and increase the maximum speed. The track structure can serve for 5 to 100 years, and the rolling stock for 25 years minimum. Herewith, the length of Unitsky String Technologies Inc. track is unlimited. A wide range of transport infrastructure needs can be satisfied by highly efficient passenger and cargo transportation over any distance and under various natural climatic conditions.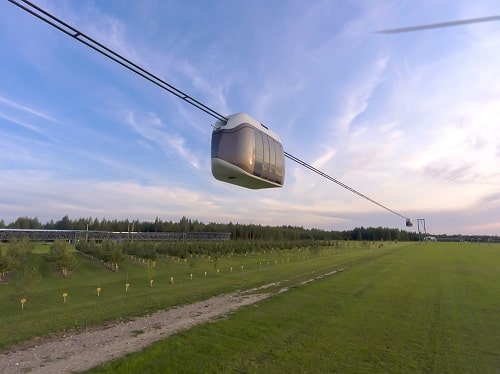 One of string transport models being tested in Belarus
Running Speed and Carrying Capacity
Different maximum speed is among the key differences between string transport and the cable cars. UST Inc. unmanned electric vehicles are capable of accelerating up to 150 km/h, which allows them to be used as a full-fledged public transport used in urban and intercity routes. At the same time, the running speed of cable car cabins is only 20-30 km/h; therefore, their use as public transport is only reasonable occasionally: to connect parts of a city separated by a river, for example.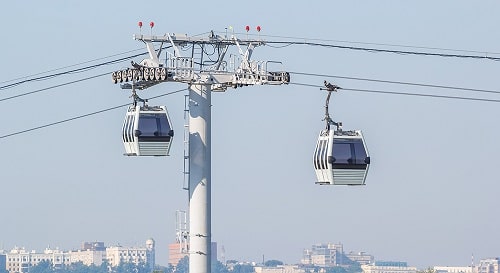 A cable car design does not provide for high speeds. Photo: m24.ru
While the most spacious cabins of a cable car are designed for 50 people, electric rail vehicles connected by an electronic coupling can carry hundreds of passengers in one train. The speed and capacity of string transport demonstrate important differences such as travel time and carrying capacity. For instance, this indicator for string transport is comparable to the metro – 50,000 people/hour, while the carrying capacity of a cable car is usually just 2,000 people/hour.
Ways of Operation
Elements of an infrastructural transport complex have various design options and are selected for a specific terrain, speed modes and planned performance. It is possible to combine different types of tracks. We can also emphasize a variety of string transport models, each of them being dedicated for different purposes and having required specifications. For instance, urban passenger transport is characterized by increased capacity. Models of small capacity, on the other hand, can be used as personal transport. Cable car manufacturers cannot offer such a wide range of models, limiting in most cases to the same dimensions, shape, capacity and, accordingly, functionality. Therefore, cable cars are only used in ski resorts and, sometimes, in cities to pass over water obstacles.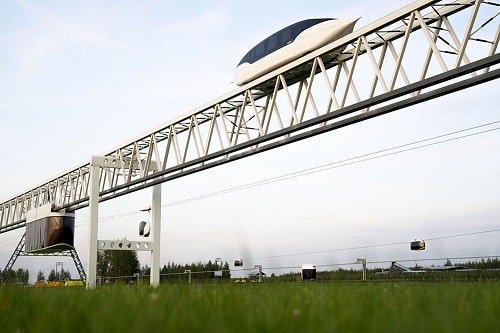 Various string transport models presented in EcoTechnoPark. Belarus (Maryina Gorka).
Safety
Cable cars can hardly be called the safest transport on earth. This is confirmed by numerous emergencies. One of the reasons is the already mentioned cable wear. A most horrific incident happened in 1990 in Georgia. The cable unexpectedly broke during the cabin movement… In that tragedy, 19 people died, other 42 passengers were seriously injured. Cable car accidents continue today. Here is just a short summary of the recent years. June 2017 – in Gulmarg, northern India, a tree fell on a cable car due to strong winds. As a result, the cabin collapsed to the ground – seven people were killed. The same year, in Pakistan, a powerful wind blew off a cabin from a cableway – 12 people died. In March 2018, in Georgia, wrong actions of a cable car operator resulted in its breakdown – 11 people were injured. May 2021 – a cable car crashed in Italy. The tragedy claimed lives of 13 passengers. The human factor, rope wear, and impacts from bad weather – we can see that accidents on cableways happen every year for various reasons.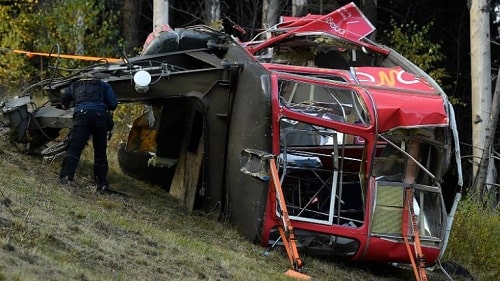 During a cable car crash last October in Czech Republic one person died. Photo: CNN
Unitsky String Technologies Inc. seem to have taken into account the above perishes. Beside the fact that the movement of an unmanned vehicle above the ground precludes road accidents, the transport complex is resistant to adverse weather factors. Examples are strong winds, icing, snowfalls, fogs, torrential rains, sandstorms and even tsunamis (special versions).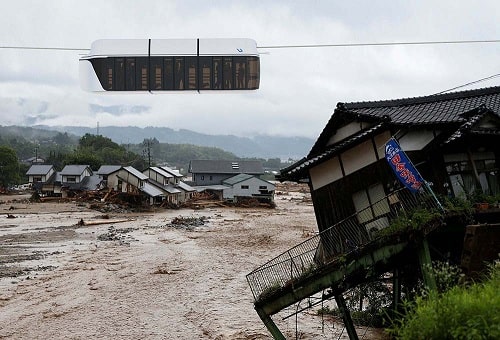 The track structure supports can withstand flooding and even tsunami (visualization).
The transport is equipped with its own intelligent control system that reads continuously information about anything that happens on the track, inside and around the electric vehicle, analyzes this data, and monitors completion of the route assignment. This precludes the human factor and any accidents to the maximum. Load-bearing string elements of a transport overpass in UST Inc. transport complexes have a tenfold strength safety limit; they are highly resistant to vandalism and terrorist attacks. Whereas cableways use a cable, the rail in string transport consists of several elements – steel wires inside, a filler, and a rail body. Each element increases the total strength. The rolling stock is equipped with an anti-derailment system, which significantly reduces the risk of a vehicle falling.
We can see, therefore, that even a superficial analysis demonstrates that a cable car and string transport are two completely different systems. While one of them has long occupied its specific niche, and is unlikely to be used in a new way, the other is capable of competing seriously with conventional means of transport.