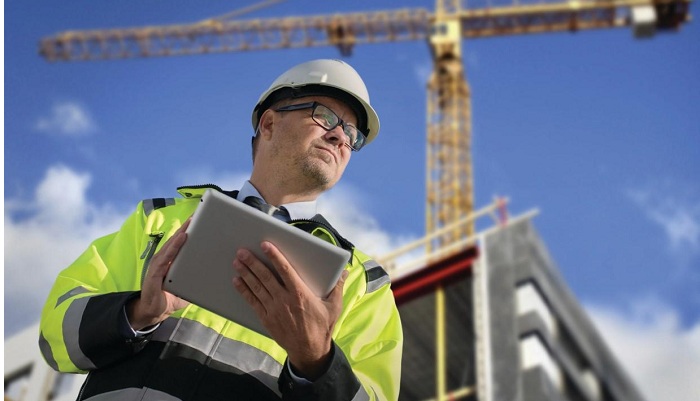 Following endorsement by LIUNA and successful testing in pilot projects by the union, the Government of Ontario has thrown its support behind Facedrive's wearable contact tracing app TraceSCAN.
The app, intended for use where smartphone and laptop use is limited or prohibited such as construction sites, airlines, schools and long-term-care homes, will be used by many of LIUNA's 130,000 members at construction sites across Canada.
All workers on a site would wear the app in a wristband and the device would register contacts of closer than two metres.
An LED light blinks every two seconds when the user is too close to another worker, meaning TraceSCAN both records contact information and also warns of lack of social distancing.
The official endorsement by LIUNA (Labourers' International Union of North America) was announced in January. On Feb. 18, Ontario Minister of Economic Development, Job Creation and Trade Vic Fedeli announced the province would support the Ontario-based technology firm with $2.5 million intended to accelerate TraceSCAN's further development.
"This is really meant as a whole new layer of safety and protection in those places where you've got people working in close proximity, who don't have access to the COVID app or they can't have a cellphone on the site," said Fedeli, referring to the national contract tracing app endorsed by the federal and provincial governments last year.
"I think the pilot projects, with Air Canada and LIUNA and the Waywayseecappo First Nation, I think those pilots went very well and really proved the concept that you can have that close proximity tracing. So we decided to invest the $2.5 million through our Ontario Together Fund.
"That's all about accelerating this program so that we can get these wearables out there, 150,000 of them, into the marketplace."
Acknowledging the funding, Facedrive chair and CEO Sayan Navaratnam commented in a statement, "The Ontario Together Fund will be instrumental in helping us grow production volumes, invest in top talent, create jobs and ultimately establish TraceSCAN as a global leader and household name for contact tracing."
In workplaces that use TraceSCAN, if anyone on the premises reports COVID-19 positive, human resources or health and safety officials can log in to an online reporting dashboard and determine who they have been in contact with and their risk level, then send an exposure notification.
Facedrive worked with researchers at the University of Waterloo and Microsoft in developing the app, which is Bluetooth enabled.
"We just saw really good adoption of the technology," said Fedeli. "It was a proof of concept, we knew it worked. They had great partners in the University of Waterloo, Microsoft and LIUNA of course.
"At the end of the day, it's also going to create 68 new jobs, it's Ontario made. This is an opportunity now to advance. They're looking at other projects more advanced than this one as well. So this is exactly what we're trying to do is to support innovation in Ontario."
The same day Fedeli announced the funding for Facedrive, his cabinet colleague Monte McNaughton, minister of labour, training and skills development, was visiting an EllisDon site in Toronto where rapid antigen testing was being demonstrated.
"My door is always open to new and innovative solutions to help keep workers safe during COVID-19," said McNaughton. "Contact tracing technologies have the potential to protect essential workers until the province receives a sufficient number of vaccines."
LIUNA director of communications Victoria Mancinelli noted that prohibition of cellphones, and thus access to the federal COVID-alert app, on construction sites is often listed in collective bargaining as a safety measure.
She noted LIUNA has been working with Facedrive since last spring and engaged in the pilot project out of its LIUNA Local 183 Vaughan Campus, a controlled setting.
Mancinelli said the use of TraceSCAN by LIUNA members is voluntary.