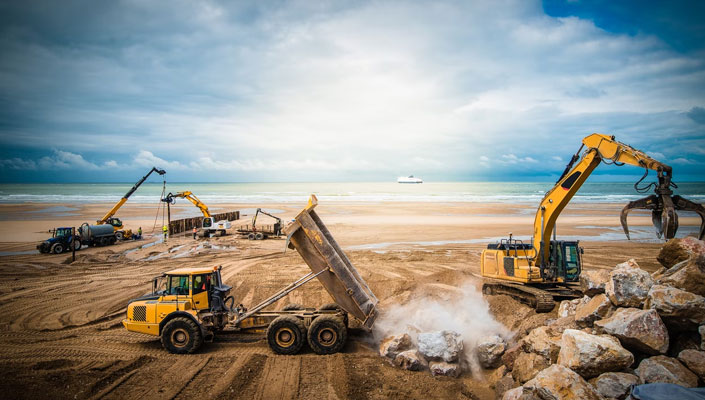 According to the most recent International Construction annual ranking of the world's top 50 construction equipment manufacturers based on sales figures, revenues for 2021 increased by 20.8% to a record high of US $232.7 billion, with sales for the top 10 on the list surging sharply.
The sales results of many firms in the world were negatively impacted by the COVID-19 outbreak in last year's list, thus an uptick in sales was anticipated. However, such a significant increase was not predicted – the sum of US $232.7 billion is the largest ever. Here is a look at the top 10 in the list, making a tremendous mark.
Caterpillar, USA
Caterpillar, based in Illinois, is the world's largest construction manufacturing company once again, with revenue of approximately US $32 billion, or 13.8% of the total amount on the list. Caterpillar manufactures wheeled loaders, excavators, motor graders, kid steer loaders, backhoe loaders, hauling trucks, and other construction equipment.
Komatsu, Japan
Komatsu happens to be the world's second largest provider of construction and mining equipment, with revenues of US $25.3 billion, up from US $19.9 billion the previous year. Komatsu offers its products all over the world, though it's particularly dominant in its home market, Japan.
XCMG, China
Xuzhou Construction Machinery Group (XCMG) has reclaimed its position as China's biggest construction equipment provider and the world's third largest. In recent years, XCMG has risen rapidly in the standings, with sales of US $18.1 billion in 2021.
Sany, China
The second Chinese firm in the top 10 of the list is Sany Heavy Industry Co., Ltd. Sany's revenues totaled US $16 billion, up from $14.4 billion on the previous year's list. Sany produces a wide range of products, but its excavators are particularly well-known.
John Deere, USA
Under the John Deere brand, Deere and Company, based in Moline, Illinois, makes agricultural, construction, forestry, and other gear. With revenue of US $11.3 billion, the business moves up a spot on the list. In 2017, Deere acquired the Wirtgen Group, propelling it to the top of the table.
Volvo CE, Sweden
Volvo Construction Equipment climbed a spot on the table thanks to robust sales of US $10.7 billion. As with most European companies, Volvo CE had a significant drop in sales as a result of the pandemic but, as expected, witnessed a significant sales increase on this year's list. Volvo CE is a significant manufacturer of electric equipment.
Zoomlion, China
With sales of $10.4 billion, Zoomlion falls two places on the list. This is to be expected, as the company rose from tenth to fifth place last year as the Chinese market grew while the rest of the world stagnated, so the dip to seventh place is a bit of a reversal.
Liebherr, Germany
With sales of $9.4 billion, Liebherr was able to move up one spot on the list. Liebherr manufactures a wide range of equipment, including excavators, cranes, wheeled loaders, telescopic handlers, dozers, and drilling rigs.
Hitachi, Japan
On this year's list, Hitachi Construction Machinery Company's sales increased to US $8.8 billion, up from US $8.5 billion last year. Last year also saw the termination of Hitachi and John Deere's long-running joint venture in 2021.
Sandvik, Sweden
Sandvik Mining & Rock Technology, with sales of $7.2 billion, is a newcomer to the top ten. As part of its aggressive growth strategy, the company purchased 14 businesses in 2021.