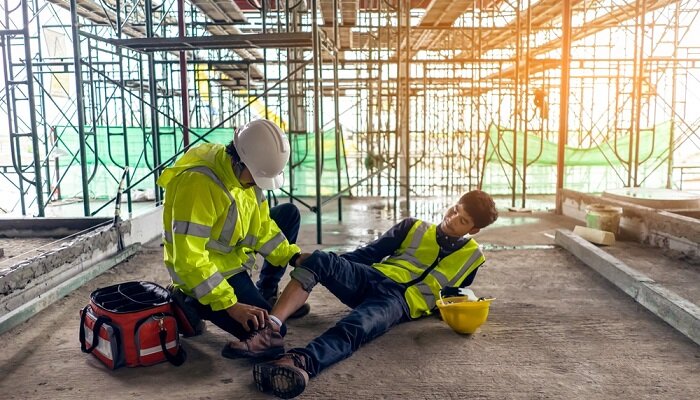 During the 2015-16 and 2019-20 periods, there were about ten deaths in the construction sector annually. 
Construction work is intensive. The day-to-day duties are physically demanding and risky. Despite safe mechanisms in place, there are still a lot of injuries that occur in the workplace.
If you fall prey to one of these injuries, your safest bet would be to contact a compensation and accident law expert.
The Most Common Types of Construction Injuries
Over the five-year duration mentioned in the introduction, three types of injuries were recorded as the most prevalent.
The usual mechanisms of injuries include:
     1. Body stressing – which can encompass:
Muscular stress while picking up, holding or offloading objects;

Muscular strain while handling objects other than the ways specified above;

Muscular stress without handling objects at all; and

Monotonous movements.
     2. Falls, trips and Slips – which involve:
Falling on an even level;

Falling from above; and

Climbing, bowing or taking a seat on an object.
     3. Getting hit by objects that are in motion – this includes:
Taking a hit as an object falls;

Getting hit by moving objects; and

Getting stuck in between static and in-motion objects.
As a workplace injury victim, you may be successful if you claim compensation.
Claims
WorkCover Queensland is the sole provider of workplace compensation insurance besides self-insurers. 
There are two types of claims available for these types of injuries:
    1. Statutory claims
With statutory claims, compensation is dispensed irrespective of who was to blame for the injury.
Payouts and benefits (referred to as statutory compensation) that you can get for this kind of claim include the following:
Weekly payouts as income substitution;

One single bulk payment to compensate for lifelong impairment; and

Hospital and medical costs.
All claims that take place in Queensland must be lodged first as a statutory claim.
    2. Common law claims
Common law claims are claims whereby an injured worker sues their employer for negligence.
Usually, a common law claim can only proceed once a statutory claim has been instituted and approved by WorkCover Queensland or the self-insurer in question. A common law claim may only commence once WorkCover Queensland or the self-insurer provides a notice of an assessment of the injury.
The courts may rule that the following payments be made (referred to as common law damages):
Financial loss;

Pain and suffering;

Legal expenses; and

Medical and hospital expenses.
Before you think about whether or not to pursue a common law claim, you should talk to a lawyer about your construction injury.
Are the Same Criteria Used To Assess All Claims?
Every claim is unique, as are all workers and injuries. The kind of injury or how you got injured can lead to more information being required to decide your claim.
In certain instances, varying criteria might be used to determine your claim. This can happen with injuries such as the following:
Psychological and mental impairments;

Industrial hearing loss;

Injuries sustained while commuting to and from, or for work purposes or on a planned break;

Severe injuries or continuing symptoms;

Work-related breathing ailments or diseases acquired while doing your job, for instance, Q-fever;

A death due to a work-related event or by sicknesses like mesothelioma or malignant skin cancer – that develop over a long duration (known as 'latent onset').
Before making a claim, it is essential to get expert advice on your type of injury and how it will be assessed.
Conclusion
The construction industry requires workers with physical strength, agility and speed. No matter how tough you are, accidents do happen. An accident can affect your finances and income-earning potential, depending on the severity. Even minor accidents carry financial setbacks.
If you have experienced any of the injuries discussed or another accident while at work on a contract site, seek legal help to gain the compensation you need and deserve.