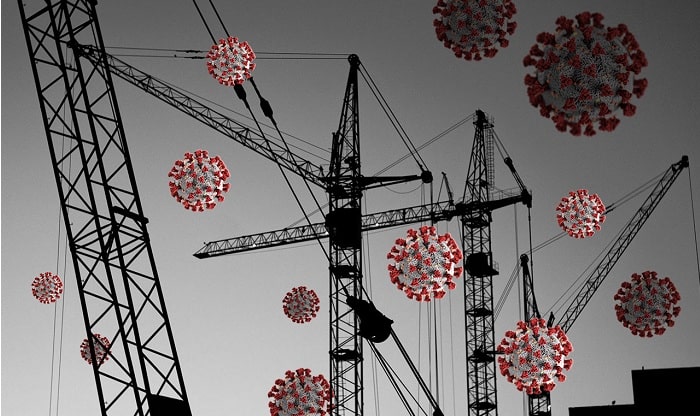 The construction industry is among the largest in the U.S., creating approximately $1.3 trillion worth of structures each year. To build these structures, the industry relies on other industries to supply materials and equipment — putting millions of dollars to work.
Construction companies are also home to over 7 million employees. This combination of factors shows just how vital construction is to the U.S. economy. However, because of the pandemic, it is important for construction companies to check if there are any construction restrictions or local guidance in the area before construction is able to continue.
At a time when Covid-19 cases are surging, and the economy is teetering on a recession, how do we ensure that the construction machine keeps running?
My company, among others in the industry, has been working with construction companies to identify ways to solve these new challenges with tech-driven solutions. No matter how good the solution, however, the company's strategic application of technology throughout the building process is the key.
Going Remote
In addition to assisting in the strategic scheduling of jobs and coordinating where workers are on-site to ensure proper social distancing, technology can also be leveraged to reduce the number of people at job sites. Typically, limiting people on-site means that work slows and project dates slip. However, by taking a strategic approach, you can make some processes more efficient and save time.
By gaining remote access to job sites through photos and video, a single worker can document what's happening on-site. For instance, our tech incorporates a 360-degree camera synced to software, providing a Google Street View-esque experience for those on the project to look at.
By using photo and video, your project teams can make rapid assessments. Maybe the current workflow needs to change. With digital documentation serving as a guide, consider shifting your labor, timing or ordering in ways that make the most business sense right now. This allows teams to move forward without delays.
Risk Reduction
An often painful lesson project teams have learned throughout the pandemic is to expect the unexpected. As such, organizations are searching for the best strategies to guard against loss. Organized, contextualized photo documentation as described above not only helps project teams but also other institutions involved, such as banks or insurance providers. It gives them verified information about the actual site status in real time. With quality documentation, assets are protected regardless of any delays or damages that might come up.
Additionally, companies are turning to smart software to quickly adapt and deploy new practices or procedures in the field. Industry guidelines are constantly changing, and by capturing and leveraging data, organizations can see exactly where they need to make adjustments and understand the best ways to roll them out. The faster teams can adapt, the better positioned they'll be to keep projects on track.
Inspections
No matter how well things are going on-site, teams can't move forward on a project without passing a multitude of inspections along the way — and having to conduct in-person inspections during a pandemic can be problematic, to say the least. This is another area where tech can add value, especially since overcoming some early bumps.
In the past, remote inspections started with videoconferencing, but they were riddled with snags. Poor connectivity or video quality made it hard to complete the inspection, and videoconferencing solutions failed to provide the necessary documentation. Live videos couldn't be saved, which led to disagreements about when or if the inspection was conducted, how thorough it was and if it was executed correctly. Additionally, inspectors experienced difficulty finding the location of a designated area for inspection on a floor plan.
Instead, consider incorporating features like PDF exports that tag images accordingly for specific inspections. Include dates and exactly where photos or videos are located on plans. By providing the exact, relevant documentation directly to inspectors, organizations can reduce the number of people physically present at a job site, and inspectors can review the images on their own time. You can provide inspectors with much better assets to work with, with much more information at their disposal than with videoconferencing. The resulting review process becomes far closer to their normal workflow as well.
Post-Pandemic
Remote site access and video documentation are some tech-driven strategies that can enable organizations to save time and money regardless of the environment. If project managers can pull up images and videos from their desks or phones the moment they need them, there is no need to spend time traveling out to a job site. Similarly, they can begin to think about their assets differently.
If project managers are able to work remotely, there will not be as great of a need to uproot their lives and move to a new location to be near a job site, or perhaps top talent can begin overseeing a greater number of projects from a centralized location.
With the right tools and strategies in place, the construction industry can advance through the pandemic in a strong position for the future, work can continue so that employees maintain jobs, and the industry can help bolster the economy. While the pandemic has posed unprecedented complications, it has highlighted issues ripe for addressing with new solutions, and now is the time to make a move to embrace innovation.