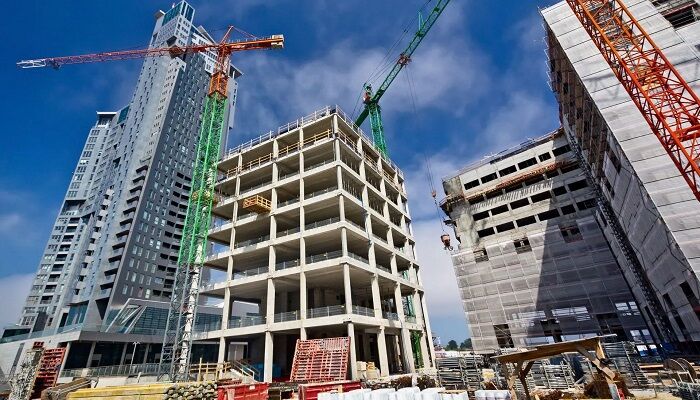 The European construction industry could face a contraction in 2024, according to the most recent predictions from economists at Dutch bank ING. This forecast is driven by the impact of high-interest rates and rapidly escalating building costs, which have significantly dampened the demand for new construction projects across Europe.
While ongoing projects and a growing emphasis on sustainability have, up to this point, prevented a decline in construction volumes, ING anticipates that a decline will become evident in the coming year, starting in 2024. Nevertheless, ING has revised its earlier projection for construction volumes in the European Union (EU) in 2023 to zero growth, attributing this to a stronger-than-expected first half of the year and sustained high construction volumes.
To justify its revised outlook, ING cited that construction production levels in June 2023 matched those of the previous year, and there was a healthy backlog of work, with 8.9 months of guaranteed projects at the beginning of the third quarter of the year. However, ING cautioned that clear indications of volume reduction were emerging due to factors such as a weaker economy, high-interest rates, and escalating building costs, leading to homebuyers and companies hesitating to invest in new construction projects.
Despite these challenges, the impact of declining demand may take time to manifest in construction output volumes due to long lead times. Already, manufacturers of cement, bricks, and concrete have witnessed a significant drop in production, averaging a 13% decline across the EU in June compared to the same period the previous year. Consequently, ING has projected a modest 1% decline in EU construction volumes for 2024.
On a more optimistic note, ING anticipates that the renovation market will help offset the decline in new construction. The demand for renovation and maintenance, which constitutes over 50% of total construction production, is less susceptible to economic cycles. Additionally, factors related to sustainability and energy are expected to drive growth in the renovation and maintenance market, with government support and high energy prices acting as additional catalysts.
However, there are indications of declining confidence among some construction companies, with negative indicators emerging among specialist construction firms for the first time in over two years in June. These subsectors encompass businesses involved in repair and maintenance, such as installation, plasterers, carpenters, painters, and glaziers. Furthermore, despite the need for infrastructure upgrades and investment in energy infrastructure, confidence in the infrastructure sector dipped into negative territory in August.
ING also observed a trend of fewer contractors increasing their prices, owing to the reduced cost of certain building materials and heightened competition in the face of weakening demand. In August 2022, approximately 65% of companies in Austria and the Netherlands expressed plans for sales price increases in surveys. However, by August of the following year, these figures had plummeted to just 8% in Austria and 20% in the Netherlands. In Germany, the majority of building companies are now contemplating price reductions.