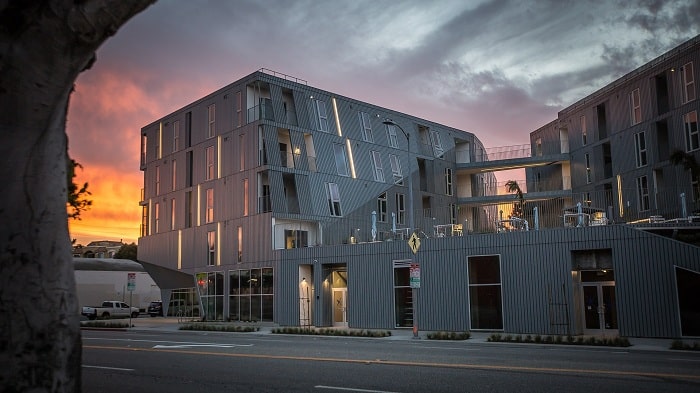 Real estate company Suffolk has completed the construction of a multi-family, mixed-use building designed by Lorcan O'Herlihy Architects (LOHA) in western Los Angeles, US.
Developed by CIM Group, the five-storey complex 1500 Granville has been constructed for the University of California (UCLA) medical students.
It covers 174,000ft² and features 153 units, namely 15,000ft² of retail and 308 subterranean parking spaces.
CIM Group sold 1500 Granville to a joint venture between UCLA Housing and UCLA Medical. The building will serve as a housing option for UCLA Medical's house staff, medical graduates and other students.
Suffolk Los Angeles general manager Ken Summers said: "We're proud to play a role in the revitalisation of this neighborhood with the completion of 1500 Granville.
"As the general contractor, we used the latest technologies and collaborative design processes to bring to life a community-focused space for students, residents and retailers."
Featuring a modern architectural design, the building provides a combination of studio, one-bedroom, two-bedroom and live-work unit floorplans with 16 affordable units.
Various indoor and outdoor gathering spaces are available for residents, including a clubhouse, a co-working space, a gym, a pool, a BBQ and multiple outdoor and courtyard areas for recreation.
The retail and restaurant areas on the ground floor offer varied outdoor dining and recreation space.
This project is the final phase of the multi-block development earlier occupied by car dealerships, including the 147-unit apartment community Elevate and The Westgate Collection's three four-storey buildings.
1500 Granville has retail space and apartments as the final block of this urbanising development for the local community.