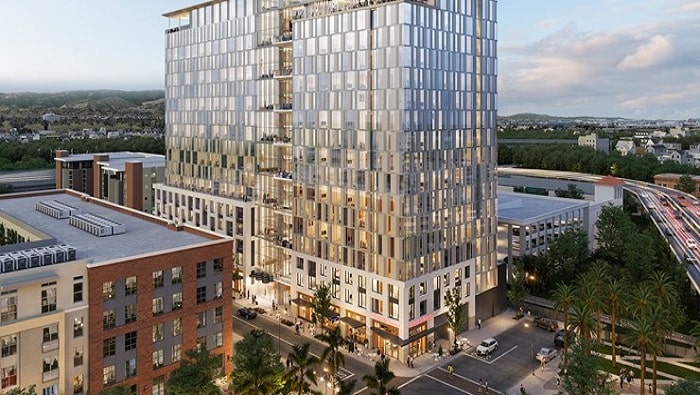 Starcity, a community-based living startup, has secured approvals from the City of San Francisco and the City of San Jose for two large purpose-built coliving projects.
The purpose-built coliving communities will feature furnished private bedrooms and private bathrooms, directly accessible off a common hallway along with communal cooking, dining, lounge, and laundry spaces offered on floor-by-floor basis.
The communities will also include community-wide amenities integrated across the building such as roof terraces, co-working spaces and bicycle facilities.
Starcity Minna, to be built in San Francisco, will be a 270-unit high-rise structure located in Minna & 5th Streets in the SoMa area.
Starcity Bassett, to be built in San Jose, will be an 803-unit high-rise, to be located in downtown of the city, three blocks from San Pedro Square and a short walk to Diridon Station.
The two projects are expected to be opened in 2021.
Starcity Minna will include 270 coliving units, of which 50% are claimed to be priced at deed-restricted below market rates. They are expected to start as low as $850. Ground-breaking of the project will take place early next year.
Starcity Minna, to be located at 199 Bassett Street, will become the largest coliving development in the world upon completion.
Starcity said that a defining feature of the building will be the notion of 'vertical neighbourhoods' where several residential floors are linked internally by centrally-located large, double-height communal spaces and terraces with interconnecting stairs.
With this arrangement, a broad array of residents from several floors can interact and engage with one another socially within the building's communal spaces.
Each floor of the building will include media rooms, 3-4 chef's style kitchens and both large group and more intimate dining areas.
Building-wide amenities include multi-level, 5,000ft fitness centre, bike storage, bike share & repair facilities, skyline-facing roof terrace, co-working spaces, subterranean parking and food & beverage oriented retail offerings on the ground floor.
Starcity claims to have worked closed with the city of San Jose on amending the City's Planning Code to add 'coliving' as a formally recognised use category, distinct from multi-family and other conventional residential uses.
California State Senator Scott Wiener said: "To truly make an impact on the housing deficit in California, we need to look to developments that serve both low-income and middle-income residents, especially in our core urban centers near public transit.
"A solution like Starcity can help provide critically needed housing at scale, and help cities like San Francisco and San Jose retain our middle class families and workforce. I am proud that this development, with a large percentage of affordable housing, will be streamlined by SB 35."