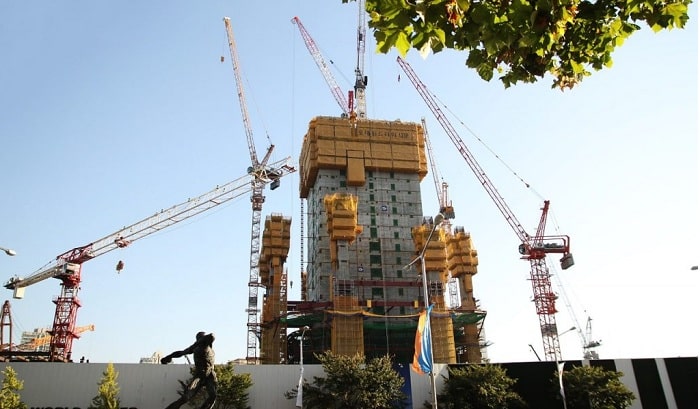 SK E&C said Monday it signed a cooperation agreement with Hilti, the world's largest manufacturer of products related to construction, building maintenance and energy, to seek a new business model in the global market.
Yoon Hyuk-noh, managing director of SK E&C's High-Tech Business Division, met online with Hilti Vice President Reinhard Schindler to close the deal last Friday.
Hilti Group was established in 1941 and it has over 30,000 employees worldwide. It is based in Schaan, Liechtenstein, and it showed approximately 7.56 trillion won ($6.32 billion) of annual sales in 2019.
Hilti offers high-tech and structural improvement services in the fields of construction, heavy industry and plants. Its main products include mechanical and chemical anchors, electric tools, laser measuring devices, fire-fighting materials and channel systems.
For the first time in the domestic construction industry, SK will cooperate with Hilti to review new business models while developing a module technology based on building information modeling (BIM). BIM is an intelligent 3D model-based process supported by various tools, technologies and contracts involving the generation and management of digital representations of physical and functional characteristics of building sites.
SK E&C and Hilti are currently developing construction materials and module construction methods that will be used to make modules for high-tech industrial facilities such as semiconductor plants, electric vehicle battery plants and data centers.
The newly developed methods and materials will be used both at domestic and overseas construction sites of SK E&C within the second half of this year. By doing so, the construction firm is expected to increase the performance and quality of materials while it reduces production costs by 30 percent.
The two companies also closely discussing the establishment of a long-term joint venture for the production and supply of construction materials.
SK E&C has recently been pushing for eco-friendly and new energy project through organizational restructuring and it has established a "new EPC model" based on smart construction in its core business.
"We will maximize off-site construction production methods by developing module technology," Yoon sad. "We will continue to explore new business opportunities in the global market by strengthening our strategic partnership with Hilti."