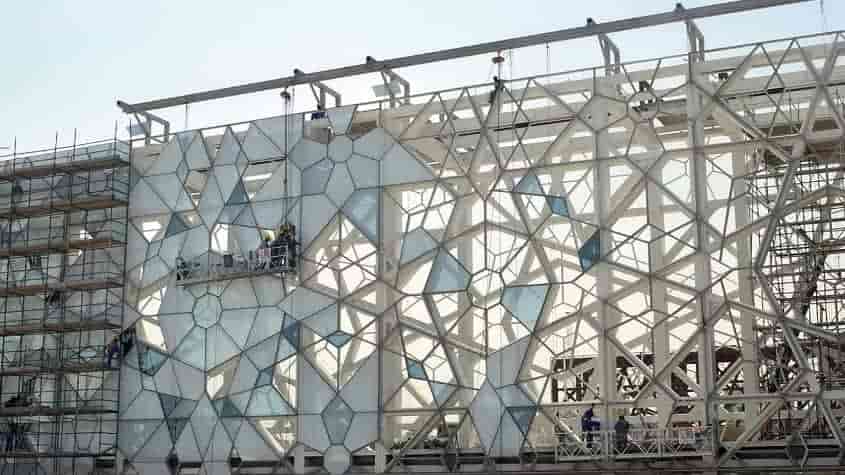 Kuwait's Sheikh Jaber Al Ahmed Cultural Centre (JACC) has been recognised with the Award of Merit at ENR's Global Best Projects Awards. The complex will be honoured at a gala ceremony on 23 October, at the Sheraton hotel, Times Square, New York. 
 Since its grand opening in November 2016, the complex has showcased performing arts, local performances and international acts. The facility is the centrepiece of a world-class theatre quarter set in spacious parkland.  Complex geometric shapes, inspired by Islamic architecture, form the richly textured outer skin of the four buildings that make up JACC, which sit like jewels in a larger public park. Luxurious world-class buildings below the outer skin exude character, drama and a heightened sense of expectation. 
The wonders continue inside each building, as visitors find jewels within jewels, as they explore the beautifully designed interiors. The key buildings that form the JACC complex are the Theatre Centre, Music Centre, Conference Centre and National Library for Historical Documents, all set within a national Park for Kuwait. 
SSH was appointed as lead architecture and engineering designer on the complex. The ENR (Engineering News Record) Global Best Projects Awards focus on the challenges, risks and rewards of designing and constructing in other countries.  Find out more about the awards here. 
ABOUT SSH:
SSH is one of the leading master planning, infrastructure, building design, construction supervision and project management firms in the Middle East, with a reputation for design integrity and a portfolio that includes landmark projects throughout the region. The firm maintains offices in Abu Dhabi, Algeria, Bahrain, Dubai, Iraq, Kuwait, London, Oman, Qatar, Saudi Arabia and South Africa. 
Founded in 1961, we employ more than 1,300 high-calibre local, regional and international experts in their individual fields, most of whom are from globally renowned international consultancy firms. We ranked 3rd architecture company in the Middle East among the top 100 Architects in the world and number 1 design firm in the culture sector in the World by World Architecture Magazine in 2015 and 2016.
We were also ranked in 92nd place among ENR's Top 225 International Design Firms, the 2nd highest ranking firm in the Middle East in 2016. SSH's multifaceted practices include architecture, urban design and planning, structural and civil engineering, MEP/building services, interior design, highway and bridge engineering, storm water drainage, utility design, sanitary engineering, marine engineering and district cooling, in addition to high-profile project management and construction supervision services.