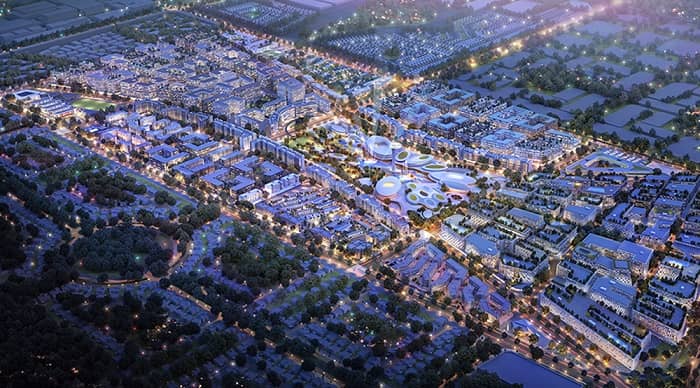 Saudi Arabia's 3,800km2 AMAALA gigaproject — the ultra-luxury destination located along Saudi Arabia's north western coast which is led by the Crown Prince HRH Mohammed bin Salman bin Abdulaziz Al Saud's sovereign Public Investment Fund (PIF) — has awarded Tamimi Global Co. Ltd. (TAFGA) the design and build contract for the construction of the first stage of the AMAALA Construction Village.
The contract also includes the second and third stages of civil and infrastructure works for the village. Each stage will address the needs of 5,184 future residents at AMAALA, and upon completion will cater to a total occupancy of 15,552 residents.
The accommodations will also be home to a full range of community facilities catering to the diverse needs of on-site staff, AMAALA confirmed.
The KSA-based TAFGA firm was awarded the contract due to its understanding of the local landscape and its proven capabilities in creating short and long-term residential communities.
A part of Tamimi Group, founded by Sheikh Ali bin Abdullah Al-Tamimi, TAFGA has been providing a wide-range of services, including operations and maintenance, temporary facility construction, facility management services, industrial services, and highly qualified management services since 1977.
Commenting on the contract award, the chief executive officer of AMAALA, Nicholas Naples, said: "AMAALA will set the standard in sustainable, community living, and this has to start with our construction workforce quarters. Providing world-class accommodations to suit a variety of staffing grades and needs, the Construction Village will aid in attracting, retaining, and training the best in global talent.
"We are committed to an operational zero-carbon footprint as our goal and through our partnership with Tamimi Group, we will define a new standard of excellence for sustainable workforce accommodation, addressing the diverse needs of all construction staff, while creating a community feel, enhancing both the welfare and quality of life."
In line with the sustainability goals set forth in the AMAALA's sustainability goals, the development of the Construction Village will employ off-site fabrication and modular construction techniques, thereby reducing environmental impact of both fabrication and installation of the village. This approach will also allow for a reduced delivery time and ensure enhanced quality.
Sharing thoughts on the partnership, the chairman of the Tamimi Group of Companies, Sheikh Tariq Al-Tamimi, said: "Tamimi Group is pleased to be a part of the prestigious AMAALA project. It is an honour to be part of the great leap for Saudi Arabia, envisioned by HRH Prince Mohammad bin Salman bin Abdulaziz Al-Saud, Crown Prince, Deputy Prime Minister and Minister of Defence, with his Vision 2030 for Saudi Arabia.
"Tamimi Group aims not only to meet the high sustainability and environmental requirements, but to exceed expectations by providing a state-of-the-art living facility unlike any other."