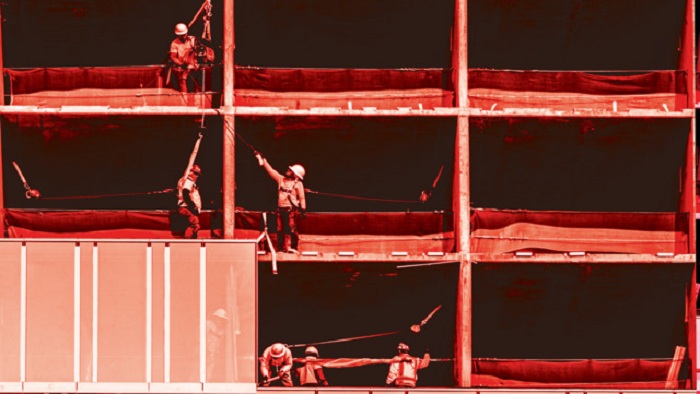 Gustavo Ramirez was a popular 16-year-old who loved soccer, played drums at school and in a church youth program and had an infectious, happy-go-lucky personality. His oldest sister, Jenifer Enamorado, says he always had a soccer ball or basketball nearby.
"He always had to keep his hands busy," she says. "Hands and feet." Enamorado's husband, a huge soccer fan, always said the teenager had el toque — "the touch," a natural talent for the game.
Ramirez — whose nickname was Kike, pronounced "kee-kay" — was the youngest of six kids, and spent most of his life in Kentucky before his family moved to Springfield, Tenn., in 2020. Shortly after, he took a summer job alongside his older brother — a construction gig at a La Quinta hotel near Nissan Stadium.
On June 24, Ramirez and his brother Josh, 18, were working on the construction site's scaffolding 120 feet in the air. Ramirez's older brother suddenly heard a noise and turned around to see Gustavo fall. According to Josh, Ramirez said "I love you" before plummeting to the ground. They were his final words.
Metro police arrived on the scene and found no signs of foul play, but they did learn the teenager wasn't wearing a safety harness while working on the scaffolding.
The family, says Enamorado, was devastated and confused.
"When you get that type of news, there is confusion," she says. "It's the first emotion that you have. And then it's grief, and then there's anger, but overwhelmingly there's grief."
She adds that Ramirez's family had been preparing for Josh to go off to college in Kentucky, and Gustavo would be their last child to raise and "to ring out those last celebrations before [they had] an empty nest."
At a vigil, a fake coffin for Gustavo Ramirez was briefly placed near the construction site where he diedAt a vigil, a fake coffin for Gustavo Ramirez was briefly placed near the construction site where he diedPhoto: Alejandro RamirezAfter Ramirez's death, it was initially unclear to investigators who was accountable for his fall, as the site's general contractor and subcontractors shifted blame. Questions about Ramirez's training on the worksite emerged — while it's legal in Tennessee for minors to work on construction sites, they're supposed to have fewer responsibilities than adults. WSMV, which followed Ramirez's case closely, obtained documents that showed the teenager had received training and certification to work with equipment needed to scale scaffolding at the site — even though it's illegal for employees under 18 to use such equipment.
According to the U.S. Occupational Safety and Health Administration, fatalities caused by falls have been and continue to be the leading cause of death for construction employees nationwide, accounting for 320 of the 1,008 construction fatalities recorded in 2018. (Safety harnesses were not necessarily required at the site where Ramirez fell, state officials previously told the Scene.)
For labor activists, the accident emphasized long-standing concerns about safety and construction in Nashville — concerns rooted in an industry culture that seemingly shrugs off accountability in favor of cutting costs, leading to layers of contractors and subcontractors who make accountability for injury and wage theft difficult to discern.
"Anytime someone is injured on a job site, we as a society should reflect on what we can do better to prevent that in the future," says Karla Campbell, an attorney representing Ramirez's family in a civil lawsuit against the site's general contractor and other companies at the site. Campbell, who is with the firm Branstetter, Stranch & Jennings, has represented construction workers and building trade unions in Nashville, and she adds that Ramirez's case is "sadly not my first wrongful death case," nor the first time she has represented a child's family.
Campbell says Ramirez's death doesn't represent a "new problem." "It's just a more dramatic example of how our government has essentially allowed this to happen," she says, "such that construction entities can subcontract with another entity or even a sham entity."
Ramirez's family has filed the lawsuit against the site's general contractor, D.F. Chase, as well as subcontractor Stover and Son, and E.Z. Distributing Inc., which trained the teenager.
Ramirez wasn't the only construction worker in Nashville who died on the job this summer. In August, a wall collapsed on 61-year-old Timothy Tyler during a job on West End Avenue.
According to the Tennessee Occupational Safety and Health Administration, there have been 10 construction-related fatalities in Tennessee out of a total of 36 workplace deaths this year. It's a small increase from last year, which saw eight construction-related deaths out of 25 workplace fatalities.
"We average somewhere around 35 fatalities every year," says Wendy Fisher, assistant commissioner of TOSHA. "And not quite half, maybe a third of them … are construction. Some years are higher, some are lower. … It is very hard to target."