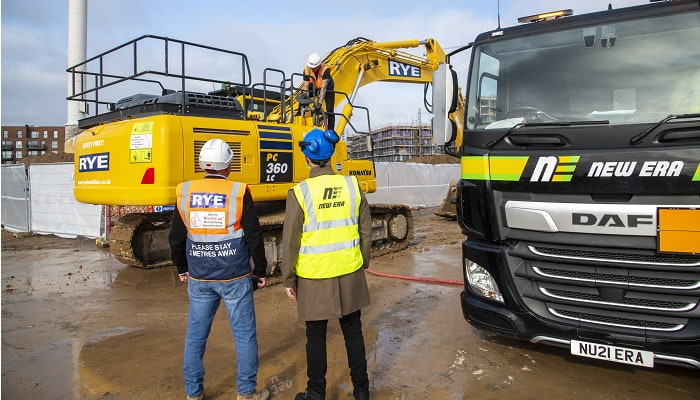 A leading provider of demolition, remediation and ground and enabling works has substituted its use of standard red diesel with HVO (Hydro-treated Vegetable Oil) in its site plant and machinery, to proactively reduce fuel emissions and inspire industry change.
Headquartered in Flitwick, Bedfordshire, Rye Group is committed to delivering its own Sustainable Standard philosophy, which targets the reduction of carbon emissions from all site equipment by 90% over the next two years.
Working with national fuel and lubricant provider, New Era Fuels, Rye took delivery of its first tank of HVO on Friday and immediately began using the fuel in its machinery located on the Kodak factory site in Harrow.
On delivery Rye's Managing Director, Simon Barlow, and Safety, Health, Environmental and Operations Director, Ben Griffiths, met with the Managing Director or New Era Fuels, James Hunt, together with the Chief Executive of industry body, National Federation of Demolition Contractors, Howard Button to discuss the positive impact HVO could have on the environmental credentials of the wider demolition industry.
Howard Button, Chief Executive of the NFDC confirmed: "As an industry we need to play our part in tackling climate change and we are expecting all NFDC member organisations to make every effort to switch to HVO by December 2022. It is encouraging to see such a respected organisation as Rye make this big step in reducing their carbon emissions. We are proud of all NFDC members taking responsibility and making changes to decarbonise their business operations. It was also great to meet with New Era Fuels, who have just joined the NFDC as an Industry Service Provider member, providing valuable services and expertise regarding the usage of low-emission fuels in the demolition sector."
Made of used cooking oil and supplemented with an organic additive, HVO reduces carbon emissions by 90% and NOx emissions by 30% when compared to diesel. New Era's HVO Green D+ was chosen by Rye Group due to the sustainable nature of its production. The fuel is fully certified back to source to ISCC standards, in line with the Renewable Energy Directive.
Rye is committed to improving its environmental impact, building on its exceptional recycling and reuse rates and other sustainability measures it is deploying.As one of the first demolition contractors to roll out HVO across its fleet, Rye hopes to lead the way and be a positive influence across the industry.
Simon Barlow, Managing Director of Rye Group said:"We are hugely excited to have taken such a significant step to reducing our environmental impact. As an organisation we are heavily focused on making a positive difference wherever we work, so it is fantastic to be able to transfer our fleet from diesel to HVO. We will accelerate the roll out over the coming weeks to maximise the benefit we deliver."
James Hunt, Managing Director of New Era Fuelsadded:"Simon and the team at Rye have really championed the use of HVO and are leading the way in the industry. We are delighted that they have chosen to make the transition to HVO and work with us to manage the roll out across their extensive fleet of plant and machinery."
About Rye Group:
Rye Group was founded in 2006 and is an established industry leader specialising in all types of demolition, remediation, ground and enabling works, as well as civil engineering and plant hire. Rye's mission is to provide quality demolition and supporting services in a safe and sustainable fashion; to help clients deliver on their goals, whilst making a positive impact on the communities they serve.
Committed to industry engagement, Founder and Managing Director, Simon Barlow, is the Vice Chairman of the National Demolition Training Group.