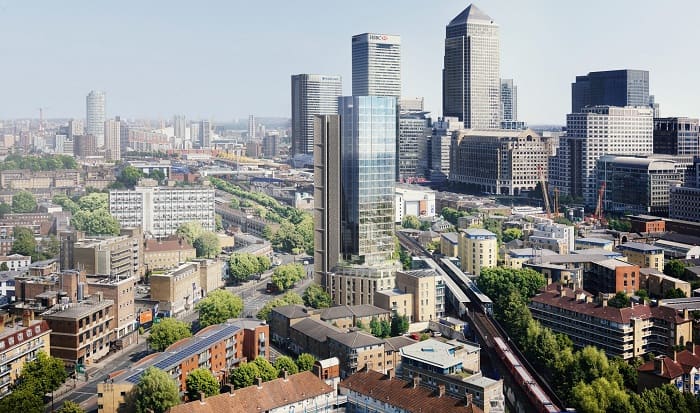 Rockwell, a versatile and connected property developer with a proven track record of delivering quality development projects, has appointed John Sisk & Son for pre-construction services to build a 30-storey mixed use tower at Westferry, Canary Wharf. The scheme provides the opportunity to rejuvenate a derelict site on West India Dock Road, marking Westferry as a destination in its own right and generating £172m for the local economy through construction.
This project will see a mixed use regeneration of vacant land adjacent to Westferry DLR Station providing a 400-bedroom hotel and 66 private residential units. The scheme will also include a restaurant and café, gym facilities and a landscaped pocket park. It is envisaged that construction will begin in Autumn.
Of the new homes, 35 percent will be affordable in perpetuity for local families, with each of the one, two, and three-bed tenure-blind apartments designed to an impeccably high standard. This development will also create 259 new jobs in the hospitality and leisure industry.
The Sisk UK South business has a strong track record in the region building hotels, offices and residential developments over the past 40 years. Recently, Sisk has built the Hilton Hotel at Wembley, the London Designer Outlet and refurbished the prestigious Royal Academy of Arts facility. Sisk's other current high-profile projects in the UK include the £184 million MODA Living, Broad Street project, Birmingham, the £96m Circle Square mixed-use scheme in Manchester, as well as its ongoing involvement in the 7,000-home build-to-rent development at Wembley Park.
Rockwell's expertise spans four major pillars: land acquisitions, planning, development management and construction. Founded by Donal Mulryan, Rockwell leads several development sites in London including; Quay House in Canary Wharf, Kensington Forum and Charlton Riverside.