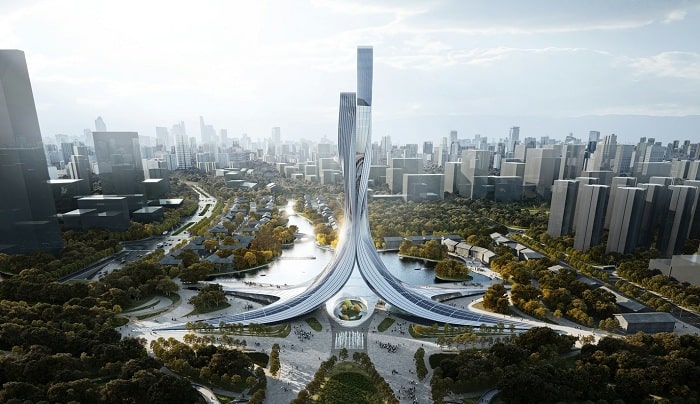 The Shanghai office of RMJM has won a competition to design Xiangjiang Gate, a mixed-use project in the city of Hengyang that will become the centerpiece of the 14 sq km Laiyan New City Project.
The 177-tall "monument" will consist of two towers leaning together. They will contain, among other things, a tourist information centre and a panoramic viewing platform, but the main role is to become a landmark for the wider project.
RMJM Shanghai says its design was inspired by the history of Hengyang, the second largest city in the southeastern province of Hunan.
Seen from the air, the central towers appear as "a narrow stream of water passing through two pieces of land". When viewed upside down, RMJM says the building resembles a goose flying through the sky, a reference to Hangyang's role as a winter refuge for migrating geese. In China wild geese traditionally indicate a message of love from afar.
Jiehe Qiu, RMJM Shanghai's chief executive, said: "The relationship between architecture and the environment has always been a complex one. To reach harmony between the two, we, at RMJM, use climate statistics and engineering parameters to study the most appropriate design forms so that we can shape the best and most suitable architectural forms under special environmental conditions."
As well as the gate, the Laiyan New City will include an amusement park, residences, office space and commercial districts. Five practices were invited to enter the competition, all of whom submitted goose-related designs.