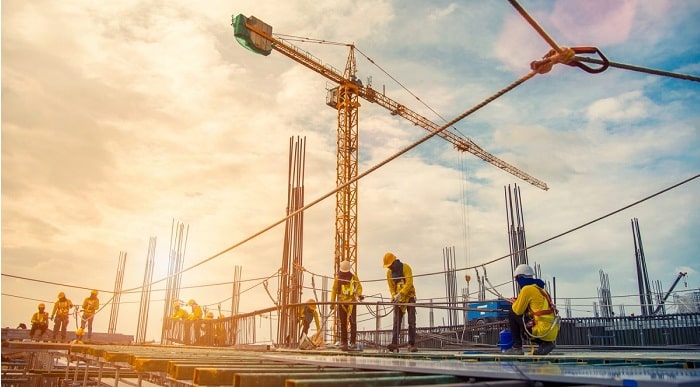 WZMH adopted PointFuse's intelligent point cloud software and a mesh modelling approach to manage all of its laser scanned information since the end of 2019.
But first, let's start from the beginning, established in 1961 as the Webb Zerafa Menkes Housden Partnership, WZMH Architects has evolved to become a global force in architectural design, with a showcase of buildings in every large Canadian city and throughout the world.
Consistently receiving Canada's 'Best Managed Companies Award' since 2015 – the team aims to deliver innovative solutions and implement digital construction software.
Investing in 3D laser scanning equipment in 2019 is one example of how WZMH has pushed boundaries. Primarily used in the feasibility, design and construction documentation phases of a project – point clouds are now considered more of a necessity on projects than could previously be imagined.
The building complex of 375/393 University Avenue, Toronto, Canada is a prominent landmark on the northern side of Toronto's downtown core. Adjacent to Toronto's courthouse, and neighbour to embassies and hospitals, this address comprises two office block towers with connected foyers.
In early 2020, WZMH were commissioned complete design work for the modernisation of the ground floor lobbies in both towers the space was outdated, unorganised and had a need for a better use of the layout.
The challenge – Managing and sharing point cloud data to analyse egress in public spaces
When designing public spaces, understanding egress – the path people will take through the building and specifically how they will exit, is of upmost importance.
Due to the egress, entrances and ceiling details – the WZMH team considered point cloud to BIM to be a 'must have' data source in the project. Ramps and multiple elevations can prove painful to completely measure using traditional measuring techniques and these details did not speak well enough in any of the existing as-built documentation provided at the start of the project.
While point clouds bring incredibly high levels of visual realism and detail; on a project that required collaboration across WZMH's team and the site's own facility management team, the technical requirements of point clouds brought limitations when sharing and managing this primary source of as-built data.
"Widespread use of point clouds across a firm brings new challenges for the IT manager," commented Dennis Dixon, senior BIM manager at WZMH.
"The volume of an individual point cloud is already high. Often these point clouds copied and spilt into smaller subsets to transfer across the network and view in design software; this quickly results in many copies of the same dataset leading to storage issues across the corporate network."
The point cloud to BIM dataset for the 375/394 University Avenue project had a data volume of 84GB and needed to be used across within the AEC software of five team members at WZMH and the client's facility management team. However, the facility management team was not equipped with digital construction software to view and manipulate point cloud data.
point cloud software, mesh modelling, digital construction software, point cloud data,
The point cloud software solution – Convert point cloud into classified mesh models
WZMH adopted PointFuse and a point cloud to mesh modelling approach to managing all its laser-scanned information since the end of 2019.
For WZMH, the time spent duplicating and cropping point clouds so that they could conform to the import restrictions of the existing and varied range of design software used by the team had the potential to cancel any of the efficiencies brought by investing in scanning in the first place.
"After extensive testing of a range of point cloud management solutions, it was clear that meshes were the route that we needed to go," concluded Dixon.
On this project converting and seamlessly storing point cloud to mesh data in Naviswork's NWC format, which is then in turn referenced by Revit as a coordinated model, made most sense. While automatic mesh conversion was left to run overnight, and then around an hour was spent setting-up Revit templates in the morning, this coordinated mesh was essentially available in Revit for the design team to get working straight away.
When asked about how long the process of getting the reality capture data into Revit would have taken by importing the point cloud into Revit using conventional methods, Dixon said: "I don't know if I would like to think! Perhaps between 3 to 4 hours for each license of Revit being used on the project."
This means that using the mesh generated by PointFuse saved between 9-12 hours of project time before the designers could even get to work.
In the case of the 375/393 University Avenue project, original point cloud consumed 84GB of disk space. Once converted into the mesh model, the size of the scanned data was reduced to just 1% of its original size.
To further optimise file sizes and the as-built data views used by WZMH's design team Dixon used PointFuse to classify the mesh prior to making it available to the project team.
Aside from envelope elements (walls, windows, doors, floors, ceilings), these classes included fixed and moveable furniture, filtered noise (such as, scanner refractions from a mirrored columns and a custom Diamond-Waffle pattern on the ceiling) and unfiltered noise (artifacts such as people and plants).
These classification layers were then turned on and off in the design and 3D coordination software used on the project.
WZMH's design team needed to undertake visualisation and feasibility work using the Unreal Engine platform – for which a lightweight textured mesh in OBJ format was also exported from PointFuse.
Working with a mesh that had existing furniture removed meant that scenarios could be played out that included inserting new elements and furniture into the existing scene.
This output really came into its own when it came to sharing with the client's facility management team who had no means to view the point cloud to BIM data, and especially not a point cloud dataset of this size.
PointFuse does not subsample image textures to fit to the mesh, providing a high degree of realism to VR applications.
Providing the data in OBJ and viewing in MeshLab, the client was able to walk through the site and be fully engaged with WZMH's design team as they collaborated on this project. It also allowed for better visualisation of site conditions in more of a complete manner than from existing CAD drawings.
Outcomes and Return on Investment (ROI)
"Keeping our data in the NWC format meant that we reduced the size of the baseline laser scanned data on this project by a massive 99%.
"Our multi-person design team were able to simultaneously access all the scan data on a project at once and without causing network issues," explained Dixon.
"On top of minimiisng the volumes of data that needed to be managed on this project there is interoperability with the range of AEC software tools that we use, all without the potential overhead of third party plugins."
Due to being able to simply 'turn-off' the noise in the scan data PointFuse's classified mesh data structure enabled the teams working to only focus on the structural elements. Indeed, the design team were able to operate far more efficiently – eliminating the significant time that would otherwise be spent cropping and duplicating data meaning they could concentrate on applying their professional expertise to the design of this project.
Finally, reducing the volumes of data being passed back and forth across WZMH's network brought operational efficiencies. All these factors lead to competitively costed projects and the delivery of extra value.
For Dixon though, the outcomes were much simpler than that: "Working with PointFuse's classified meshes was essentially the different between being able to collaborate with our client, or not.
"We needed our reality capture data to be more portable and viewable against our future designs. There was otherwise no means at all for our client to view a point cloud data of this volume."
Indeed, using such as compressed mesh was also the only way the WZMH team could work with the data within their visualization platform.
Dixon added: "At no extra cost to the project, we could provide a clean, uncluttered mesh enabling them to fully interrogate their space, especially with respect to the impact that the existing multilevel nature of the space has on egress through the property; and ensure that our design team could return a product that exceeded their requirements."
Using mesh modelling to manage reality capture data
Now WZMH, corporate policy is to manage all reality capture data as a mesh.
The conservation of project time is so important, immediately removing the requirement to continuously duplicate and crop data to fit with downstream requirements not only brings tangible cost savings, but means that the AEC professional and their client can keep their focus on interpreting the data and not on needing to prepare the data.
At WZMH, with their reality capture data now managed as a classified mesh, primarily alongside other site data in the Navisworks 3D Coordination environment, all of their reality capture data is not only now used in its entirety in the Revit design environment, but the same base dataset is also easily imported into the multitude of other visualisation environments used by the team and their clients.