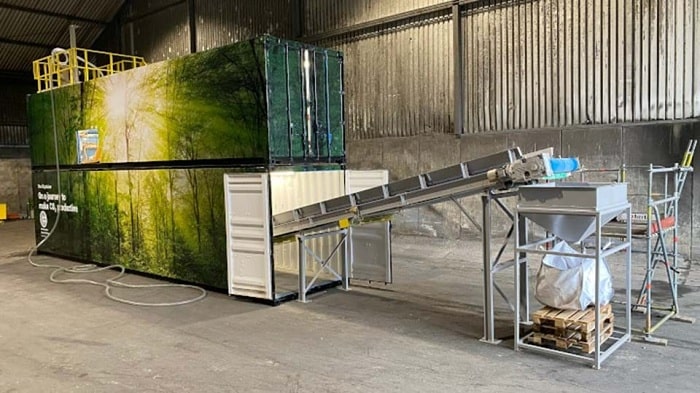 UK COMPANY Carbon8 Systems will run its first energy-from-waste (EfW) pilot project at an AVR site in the Netherlands that will use captured carbon dioxide (CO2) and waste to create material for the construction industry.
Carbon8 has developed accelerated carbonisation technology which can combine industrial waste residues and captured CO2 to produce useful products. The patented carbon capture and utilisation (CCU) technology is employed in so-called "CO2tainer" systems, which Carbon8 describes as "carbon capture in a box".
For this pilot, a CO2tainer will be installed at energy-from-waste (EfW) company AVR's plant in Duiven, the Netherlands. The EfW plant processes waste from about 1.5m households each year, releasing about 400,000 t of CO2. Captured CO2 from the flue gas emissions will be combined with fly ash – a waste product from coal smoke – to produce manufactured aggregate for use in the construction industry.
Aggregates are typically defined as being hard, granular materials suitable to use on their own or in combination with cement, lime, or a bituminous binder in construction. Aggregates can be natural, manufactured, or recycled. Carbon8's accelerated carbonisation process produces "high-value, light weight aggregates suitable for concrete applications".
The CO2tainer will make use of CO2 from the EfW plant's flue gas that would normally be captured and sold directly. The Duiven pilot plant is expected to produce 100 t of building product for validation and use, with more potential to use more of the plant's CO2 in the future. About 10 t of CO2 will be required to manufacture the building product in the pilot.
The plant is currently being installed and once operational will run for about eight weeks.
In addition to EfW and cement, Carbon8's carbonisation technology can also be employed in the steel and paper industries.
According to Michiel Timmerije, Director of Energy & Residues at AVR, the EfW company is looking to make the best use of its CO2 emissions and the ash produced at its plant and has an ultimate target of achieving zero waste.
Paula Carey, Co-Founder and Technical Director of Carbon8, said that Carbon8 is pursuing a two-phase strategy for deploying its technology in the global EfW sector. Firstly, the pilot project, and it that is successful it will move into commercial operation.
"Ideally, we will do this at Duiven or elsewhere within AVR's operations in The Netherlands".
Carey added: "Given the level of flue gas emissions from EfW plants and the need to stop ash going to landfill – and not forgetting the high cost of doing so – we see significant business opportunities for our CO?tainer in the EfW sector – in Europe and worldwide."