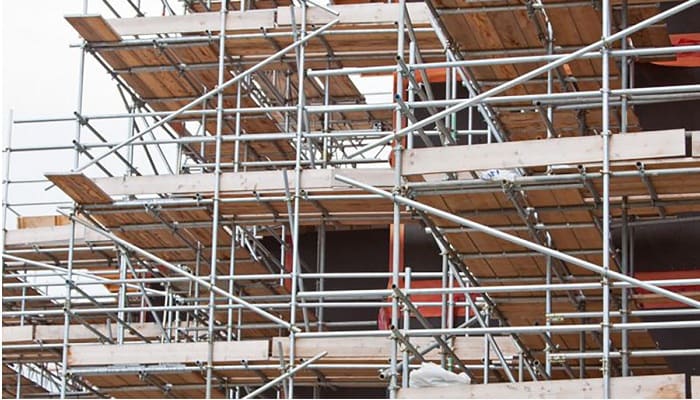 Scaffolding is a temporary elevated work platform that supports employees and their materials. To guarantee that OSHA rules are followed during scaffold use, a competent person must be present at all times. Scaffold safety training is required for everyone who uses a scaffold.
On scaffolding work sites, there are four types of personnel
Competent individual

Trained scaffold erector/dismantler

Trained scaffold worker

Prohibited non-trained person
Never use a scaffold unless you are
Trained in scaffold use

Knowledgeable on scaffolds

Capable of using scaffolds properly

Authorized to use a scaffold
During all phases of scaffold use, a qualified person must be present. These include scaffold erecting, using, and dismantling as part of this process.
Employees are unaware of the risks and hazards associated with scaffolding if they are not properly trained. Scaffold mishaps can happen even when trained personnel use them. About 65 percent of the construction sector uses scaffolds on a regular basis. In fact, the Occupational Safety and Health Administration (OSHA) estimates that 29,000 scaffold falls occur every year. Scaffolding must be used properly for this reason alone. As scaffolds are used by such a large part of the construction sector, good training and awareness are essential for safety.
If the employer has reasons to assume the employee lacks the knowledge or skill required to work securely on scaffolding, the employee may be required to undergo retraining. A high percentage of workers who use scaffolding on a regular basis can be protected with proper training and awareness.
In addition to adequate training and authorization, any one operating a scaffold should follow certain OSHA standards.
Scaffold Safety Rules To Follow
For a strong foundation, use the appropriate base plates, mud sills, and adjustable screw jacks on solid ground.

Inspect all equipment and get rid of any broken parts.

Tie the scaffold to the structure at a ratio of 4-to-1 vertically and at a distance of 30 feet horizontally.

The minimum vase dimension ratio should not be more than 4-to-1 in height.

Use scaffold grade plank, overlapping it by at least 12 inches and extending it at least six inches but no more than 12 inches over the end.

Follow the manufacturer's capacity recommendations, and keep in mind that scaffolds should be able to handle at least four times the maximum intended load without failing.

Brace the scaffold according to the manufacturer's instructions.

On all open sides and ends of platforms over 10 inches, use guardrails, midrails, and toe boards.

After erection and before each shift, inspect the scaffold setup. Without permission, you may not remove any section.

 Provide proper ladder access to all work levels.
Maintaining Scaffold Safety Rules
Investing time in training your employees on how to recognize scaffolding dangers and how to take correct safety precautions when working at height can go a long way toward preventing accidents and limiting liability. 
CloudApper's Safety Mobile App can help in mitigating incidents and improving workplace safety by making it very simple to report dangers and occurrences, uncover root causes, and maintain preventive actions. It improves safety standards for your workers and contractors, therefore improving construction project outcomes.