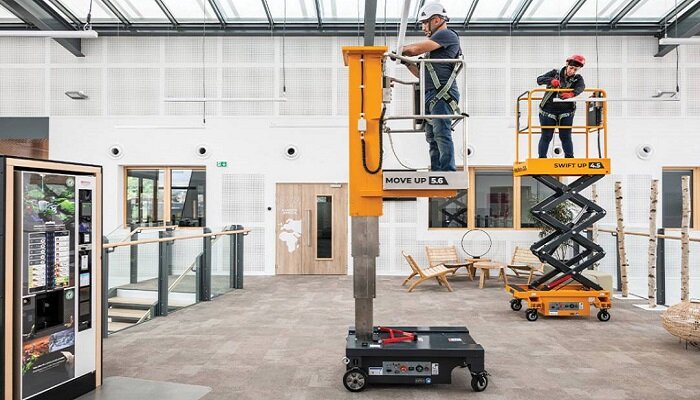 As per insights, the use of ladders and scaffolds is being reduced globally in favor of low-level access equipment to enhance worker safety, minimize surface damage, and cut rework costs. This shift is driven by new safety regulations and specific project needs, prompting contractors to adopt lightweight solutions like Hy-Brid Lifts.
The demand for low-level access is rapidly increasing in markets where traditional access products are established. In 2019, approximately 6,000-7,000 units of new equipment were sold annually; this figure is expected to double by 2023 due to market demand.
Safety regulations and employer restrictions, particularly in the UK, are boosting the demand for low-level access platforms. The introduction of micro-scissors like the GS-1432m and GS-1932m caters to these needs by offering compact and lightweight options that are suitable for various applications.
Hy-Brid Lifts has embraced scissor lift solutions, with their Zero-Turn Series ZT-1630 being introduced as a versatile alternative to mast lifts. This compact scissor lift features counterrotating wheels, allowing easy maneuverability in tight spaces without harming the finished construction. The ZT-1630 boasts a larger platform compared to mast lifts, a 650-pound capacity, and various features for operator comfort and safety.
JLG is also entering the low-level access market with the Power Tower Duo and Nano 35 set to launch in 2023. The Duo accommodates two individuals indoors or outdoors and can lift materials with its mechanical outriggers. The Nano 35, under 500kg in weight, reaches 5.5m without outriggers, enabling access to congested areas.
Traditional scissor and boom lift manufacturers, including JLG and Haulotte, have recognized the trend toward low-level access equipment. Haulotte's Move Up mast lift line and Swift Up scissor lift line offers compact and maneuverable options for navigating confined spaces like store aisles and offices. The global trend towards low-level access equipment over ladders and scaffolds is being fueled by safety regulations, specialized project requirements, and market demand. Manufacturers are responding with innovative, compact, and lightweight solutions to meet these needs across various industries and applications.