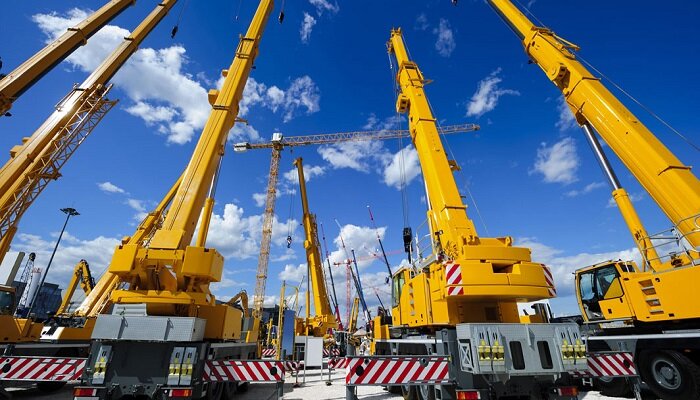 As the global economy reopens after the pandemic and supply chain challenges start to abate, there is a noticeable surge in demand for various types of cranes worldwide. This increased demand is presenting numerous opportunities for crane rental companies. Construction equipment sales, including cranes, are predicted to rise by 5% this year (excluding China). According to the ICm20 ranking of the world's largest crane-owning companies in November 2022, crane-related activity has exceeded a total value of $35 billion.
Despite the flourishing business, managing crane fleets remains a persistent hurdle, especially when expanding operations across different global regions. The task of monitoring crane locations and planning their movements poses a considerable logistical complexity. The response to this challenge lies in fleet management software and the transition to digital organization.
The trend toward complete digitization and the quest for enhanced fleet efficiency emerge as the two significant developments in fleet management solutions, as highlighted by Belgium-based industrial equipment supplier GemOne. Fleets often comprise vehicles from diverse brands, making access rental fleet management a daunting task. Factors such as escalating insurance premiums and fuel costs are driving the need for change, escalating the overall business expenses. Additionally, maintenance optimization, improved workplace safety, and addressing global skill shortages are propelling companies toward fleet management solutions.
GemOne has developed the Onyx fleet management solution, which empowers rental companies to track vehicles, elevate operational efficiency, ensure safer operations, and prevent unexpected downtime. The Onyx platform provides real-time visibility into the status of access machines, including location, operator details, and maintenance schedules. This data-driven approach empowers fleet managers to make informed decisions about optimizing their fleet composition. The platform is equipped with GPS tracking, usage history, remote diagnostics, and CAN data communication for improved inter-machine communication, albeit currently limited to access equipment.
Across the construction equipment markets, including cranes, analytical fleet management is becoming indispensable for long-term profitability. Digital transformation and the adoption of rental software have long been central to rental strategies. The capability to dynamically respond to rapidly shifting market dynamics has taken precedence. Alongside the call for sustainability, the upward trajectory of costs due to inflationary pressures has prompted the search for more accurate measures of asset return on investment and business performance.
InspHire, a UK-based software company, emphasizes the importance of smart rental businesses offering superior services to customers, even at slightly higher rates. The company's offerings include real-time on-location processes, repairs, services, and vehicle inspections. InspHire Corporate enables rental companies to streamline complex processes across different business units into a centralized rental management ERP system, reducing operational costs and manual paperwork.
In crane rental procurement, Andrei Geikalo's digital platform, MyCrane, has emerged as a solution to simplify the outdated and intricate process. Users input their lifting requirements into MyCrane and receive personalized crane rental quotes from registered providers. The platform eliminates the need for users to engage multiple equipment providers and facilitates directly comparable quotations. Despite initial apprehensions, the benefits of digitalization in crane procurement have gained traction due to its potential to enhance cost-effectiveness and efficiency in construction projects.
After the procurement of cranes, there are avenues for the digital management of traditional paperwork. Capja, a UK-based consultancy firm, seeks to digitize conventional paperwork associated with cranes, from pre-work checks to digital signatures and invoice creation. The Capja mobile app allows offline usage, downloading, and uploading data when an internet connection is available, enhancing operational smoothness. QR codes have been introduced for quick access to secure information.
In the era of data-driven operations, Berlin-based Flexcavo offers rental services alongside software solutions for data-enabled workflow and process management, primarily targeting the contractor market. Trackunit, a Denmark-based software company, collects vast amounts of data daily to optimize construction efficiency and reduce downtime. As the crane industry gravitates toward complete digitalization, the availability of diverse options promises to enhance fleet management through data-driven insights and streamlined processes.