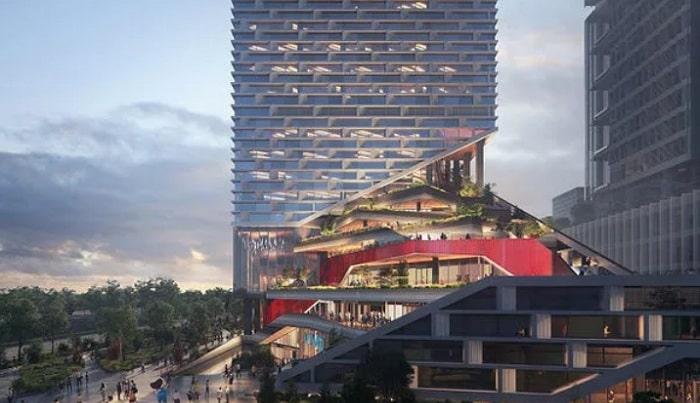 Seattle-based architect NBBJ has unveiled striking images of its design for the Shenzhen headquarters of Chinese smartphone developer Vivo.
The 32-storey building, which is under construction in Shenzhen's relatively rundown Boa'an district in the north of the city, will have a spiralling garden terrace visible through a cut in the exterior cladding.
The firm commented in a press statement that its "lush green spaces cascade from the welcoming public plaza to the uppermost level of the tower".
As an additional refinement, the nature of the vegetation used changes as it ascends the 150m building, from coastal wetlands and lowland forests at the bottom to subtropical and alpine forests near the top. The plants will be irrigated by a rainwater collection system on the roof.
The interior will contain offices, with a public plaza and shops on the ground floor and a Vivo store and showroom on the fifth. Elsewhere there will be restaurants, conference levels and an event space at the summit.
The designers are hoping to receive WELL and LEED Gold certification for the design, when it is completed in 2025.
Vivo recently formed an alliance with Huawei Technologies, electronics maker Xiaomi, and mobile phone maker Oppo to create a platform to allow app developers outside China to upload their software onto all of their app stores simultaneously, a move meant to challenge the dominance of Google's Play store.