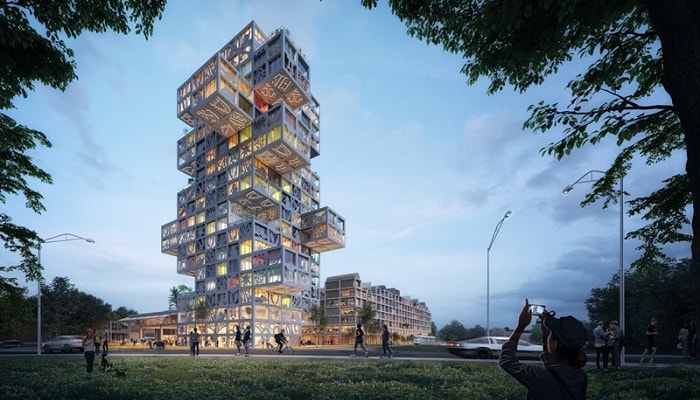 Netherlands-based architecture firm MVRDV has received a contract to design a mixed-use complex that will redevelop a post-industrial site in Kiel, Germany.
The 65,000m² mixed-use complex will be based on a flexible design system instead of a fixed and unchangeable plan. This will allow the project design to adapt to future needs of the community as its development progresses.
Under the proposal, labelled 'KoolKiel', the complex will house a hotel, offices, residences, commercial space, and an event space.
The site is currently occupied by a large, single-storey building, which was previously used to store chains for ships. Now known as W8 Medienzentrum, the building contains companies in the media and creative industries.
The building's existing structure will be retained as commercial units, topped with apartments.
MVRDV's proposal involves the development of a new building adjacent to W8 Medienzentrum.
The new building will have a zig-zagging plinth containing offices and shops, topped by several cubic blocks of housing, and a small tower housing office spaces.
At the end of the site, a 250-room hotel tower will connect to the plinth through a public event space used to conduct exhibitions and events.
MVRDV principal and co-founder Jacob van Rijs said: "In a location with such a dynamic and creative existing community, it's obvious that the community should have a say in this development.
"KoolKiel is not only inspired by them, but it also allows them to tailor the proposal to their wishes. We're presenting them with not just a design, but also a question: 'how 'Kool' do you want it?'"
Exterior spaces to be developed include a furnished courtyard between the buildings and a rooftop park.
The project will have façade panels, made from fibre reinforced concrete, that feature icons inspired by the creative output of the local community.
The design system of the project offers flexibility in changing the size and number of cantilevers on the hotel tower, as well as the number of pictographic panels.
In addition, the flexible system will allow the size, number, and layout of apartments placed above the existing W8 building to be altered in accordance with future demands.