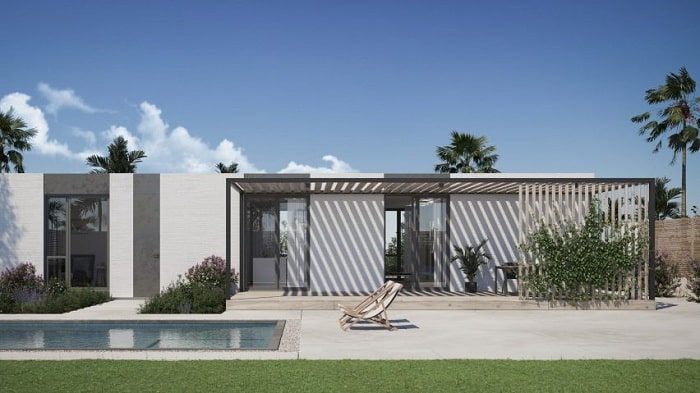 Construction technology company Mighty Buildings has announced plans to build 15 homes using prefabricated 3D-printed panels in Rancho Mirage, California.
The project is a collaboration between California-based Mighty Buildings and developers Palari Group. Construction will begin at the end of this year with the homes set to be finished by Spring 2022.
Once complete, Mighty Buildings claims that the development will be the "world's first community" of 3D-printed homes with net-zero emissions.
Solar panels will provide energy for the properties. Individual houses will also have the option to use Tesla Powerwall batteries to store solar energy.
The company has released renderings showing 15 bungalows that will be built using its patented Mighty Kit System.
The hybrid process sees prefabricated panels made of 3D-printed material made in a factory before being shipped and assembled into steel-framed modular houses.
Each panel is the equivalent of eight layers of traditional construction materials, said Mighty Buildings.